29 septembre 2009
2
29
/

09
/

septembre
/

2009
10:48
When leaving Cluj-Napoca, our next destination was the Moldova region in Rumania. The exact number of kilometers we drove, I am not sure about anymore, but we left Cluj-Napoca on a Tuesday and arrived the Friday (18/09/09) morning in the village we wanted to be. The drive was nice, as the countryside was different from Transylvania to Moldova. It seems that the Moldova region is the poorer region of Rumania and indeed the houses were more modest.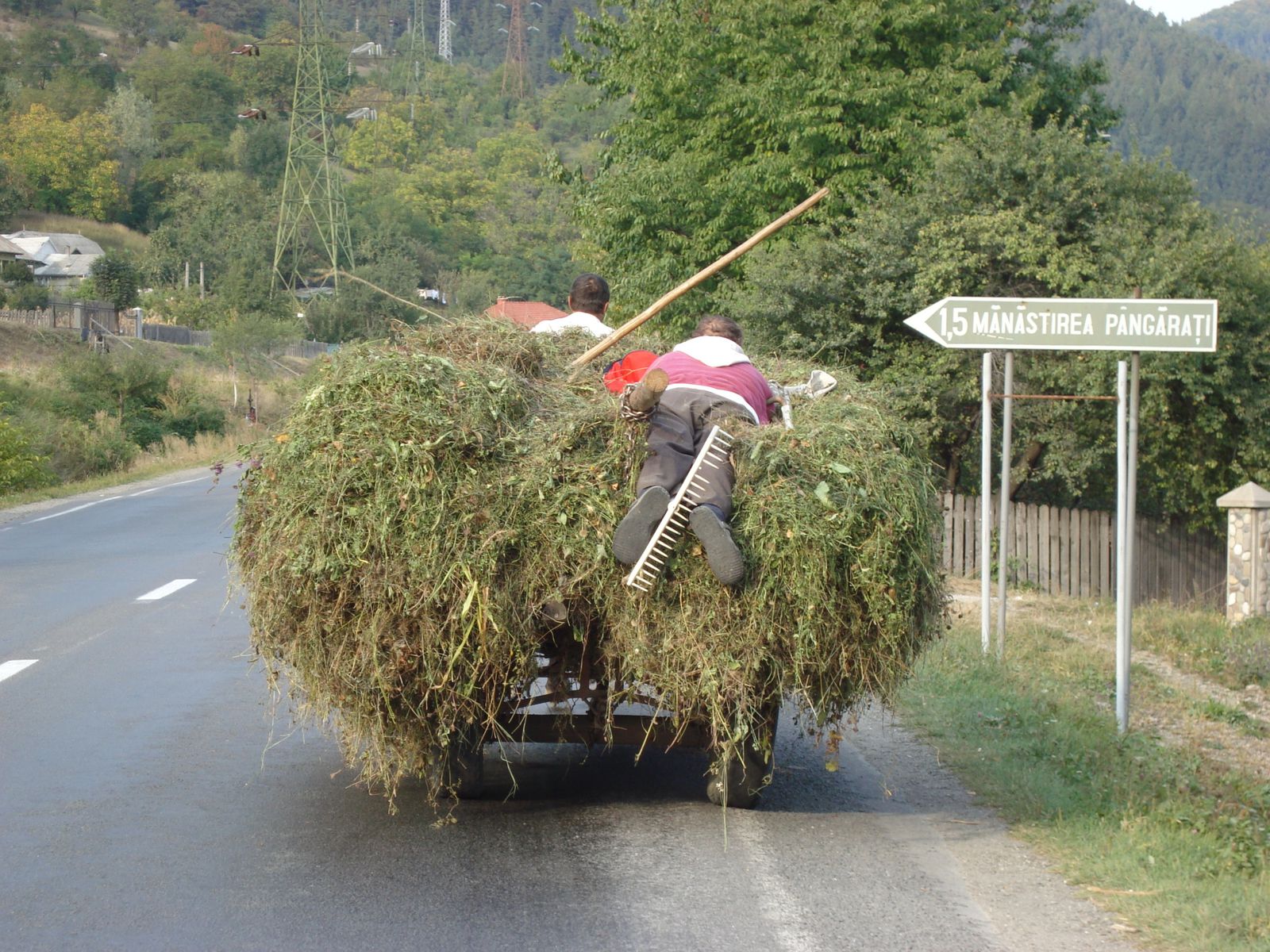 The reason why we were going to this particular village, was because back in Paris a Rumanian friend of a colleague of Olivier, who's name is Costica (a.k.a Costello) told us about this village and his muscians. Costica advised us to go in this village as there are a lot of musicians here and he gave us the name of this family he knew. He wrote in a few words in Rumanian language our intention, so we can show to the people in the village in order to avoid problems with our lack of the Rumanian language.
So that Friday we arrived in the village called Zece Prajini, which is a tiny little village in the Moldova region. We asked around and offcourse it didn't took us a lot of time to get to the house of family Pantiru. The first person we made acquiantance with, was the grandfather of the family. We showed the little note that Costica wrote for them and were immediately welcomed in. Olivio Pantiru who spoke a little french, showed us to the house of his parents and informed us that his father will be arriving in a few hours.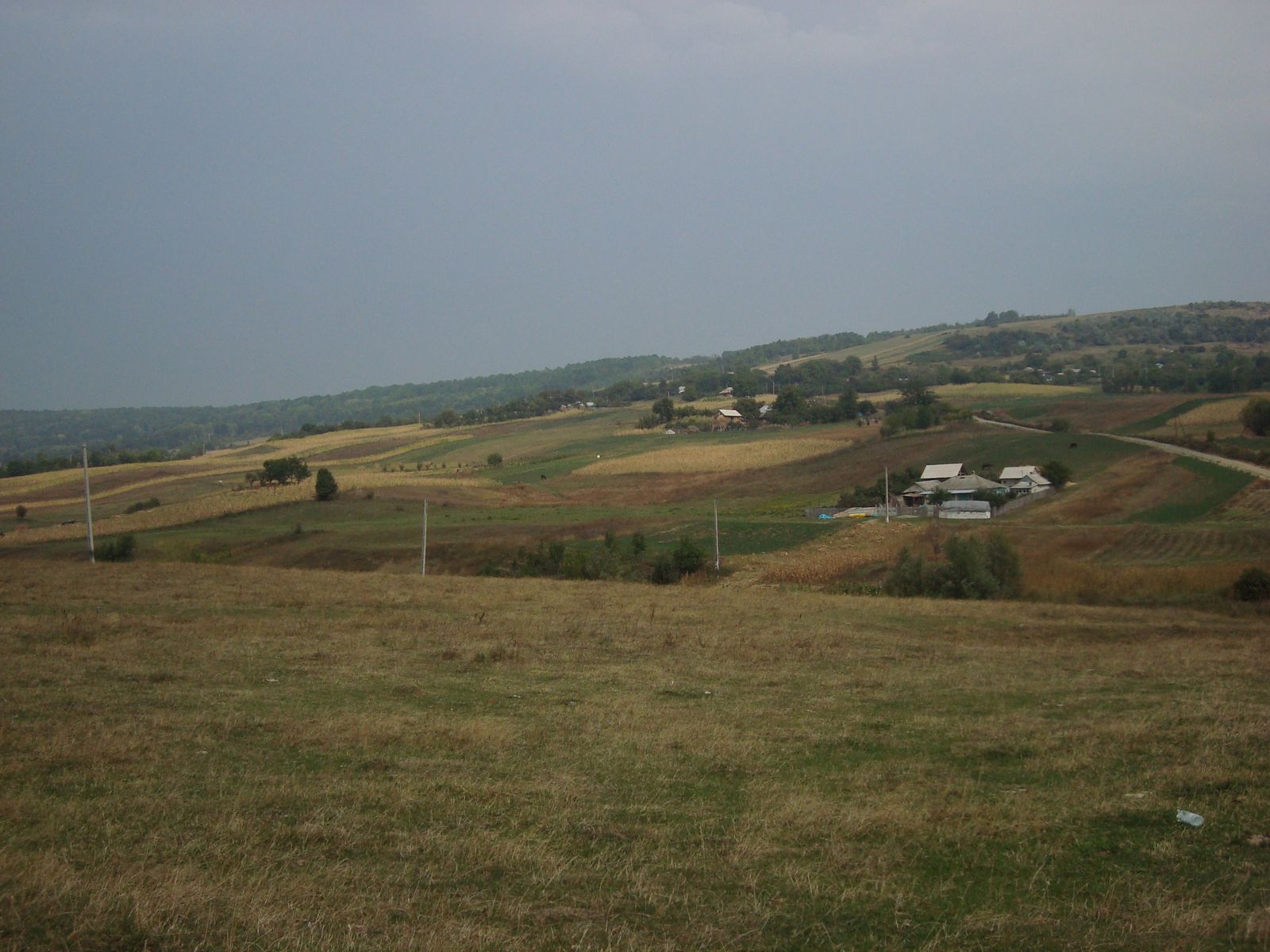 Indeed after approximately two hours the family seemed very much complete. We met with Costica Pantiru (father), Didica Pantiru (son) and his wife (Lacramioara) and their two children (Bianca & Alex), another son called Mihai Pantiru, a daughter Gabriella Pantiru and the wife and mother Mariana Pantiru. We started explaining our project and also showed our little note that Costica from Paris left for them.
Costica Pantiru (a.k.a. Tuta) explained to us that they have a fanfare with 10 musicians and that they play gipsy music. Their recordings are live and without the use of any remixing afterwards. Costica is the head of the fanfare and makes the different arrangements. The name of their band is Fanfare Shukar.
Thanks to their way to making music, they had a lot of successes already. This fanfare had a very important contract with a theater group in France. It is a very known circus in France called Zingaro with the artist Bartabas as the leader. It is a circus with performance of horses and acrobates, nothing like the traditional circus we know. For the last 3,5 years, the fanfara Shukar played the music in the last performance of Zingaro. Together with this circus the fanfara had a chance to travel in different countries like France, Japan, Turkey, Hong Kong and many many others. So we had in front of us members of a fanfara with a great curriculum.
Tuta explained to us that it was impossible for us to record the fanfara as some members do not live in the village Zece Prajini so difficult to reunite everybody at a short notice. But it was possible to record an orchestra, meaning three muscians that will play some of their tunes. So indeed the following day we had performance of three musicians, keyboard, saxophone and trumpet. Didic and Olivio played alternatively on the keyboard. Mihai and Didic also played alternatively on the saxophone. And Craciun Trifan played the trumpet.
I lent Didic my saxophones for him to play on it..........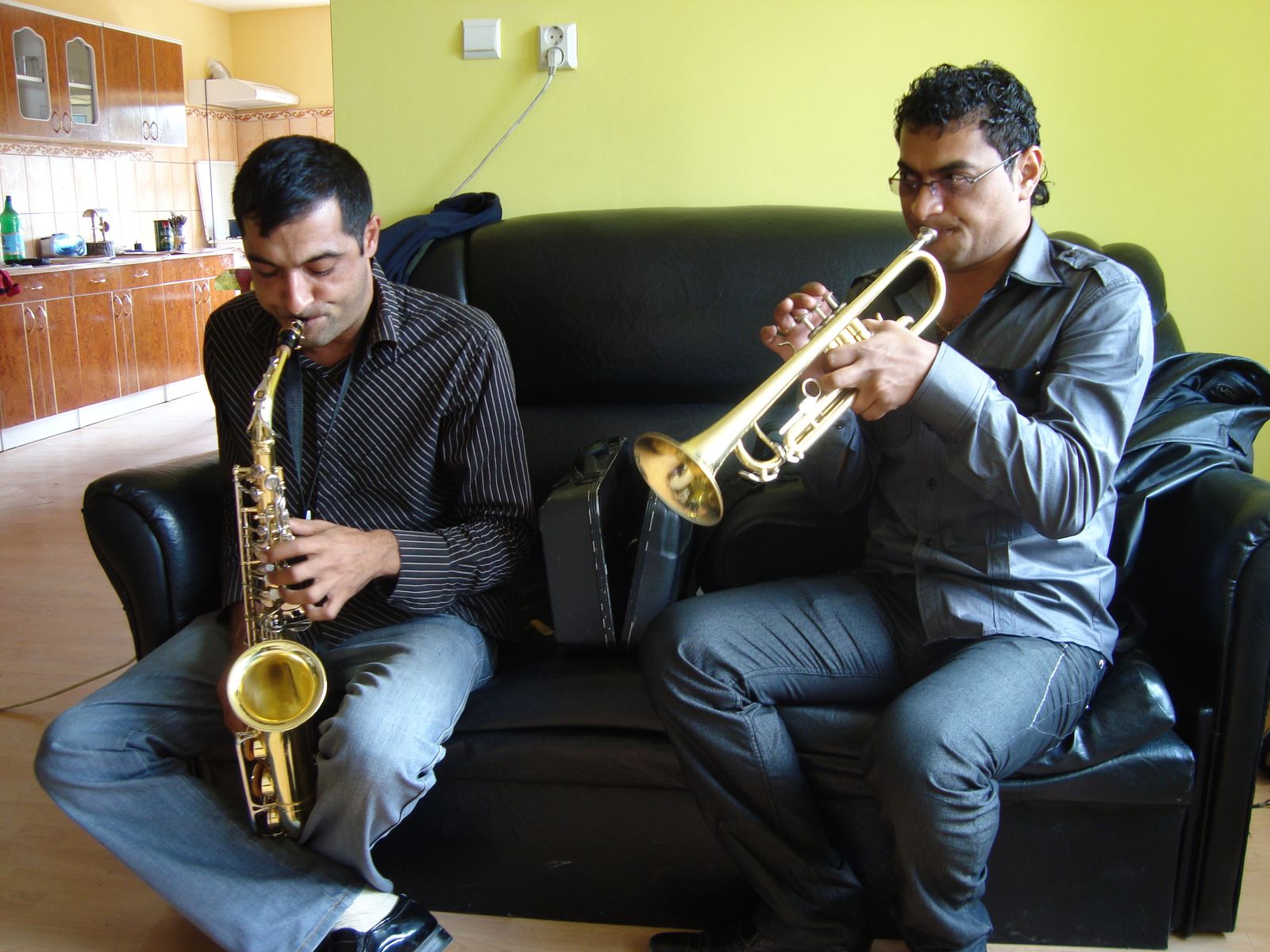 It was so amazing, he was playing so fast I could hardly keep up with my eyes. The extraordinary thing is that they all play and learned by listening to music. They have their hearing skills so much developped and learned to play like that. They start playing at a very young age. In the previous article of Olivier you can enjoy some tunes they played for us.
I also want to take the opportunity to really promote this fanfara Shukar. They have a myspace where people can hear their music, which is the following:
They have their last CD which is called Fanfara-Shukar volume 8, 2009. If you want to obtain their CD or contact them, the best way is to send an email to Didica Pantiru on his email adress: pantiru_didica.yahoo.com
To all the Rumanians we spoke about them since me left Zece Prajini, they all knew this village and that there are muscians living there.
That evening Didica was playing with two other muscians at a wedding party in a close by town called Roman. He suggested us to come over and record them. So we did!!! The bride and groom agreed with our presence. We assisted at a very festive wedding party. Young and old were dancing all night long. There was live music from our gypsy friends and also CDs. We had a good oppportunity to record more nice music. This time, the trio changed a bit, but the instruments stayed the same: Didica playing the saxophone, Craciun playing the trumpet and Constantin Lazar playing the keyboard and singing at the same time.
During our stay in Zece Prajini, we were welcomed very warmly. We could stay the night in the newly build house, we were spoiled with wonderfull cooked dishes by Marianna Pantiru. The hospitality of this family is remarcable.
We learned also that the Pantiru family are gypsies from the ethnical background Ursari. Within the gypsie community we find many different ethnic background. The Ursari are very much known and appreciated for their music.
Words are not enough to thank this family for their hospitality, their kindness and the facility with which they openen up to us and provide us this opportunity to share a piece of their culture with them.
The next town we were planning to visit after leaving Roman the next day was Vaslui. Our Rumanian friend of Paris gave us a name of a tumpet player that is living there. Ones in the town, we tried a few cafe's and offcourse it didn't take us a lot of time to be in contact with musicians. We didn't find our trumpet player as he was playing cards in another town. But we did bump into a the Rapsodia Vasluiului, a ten musicians orchestra playing in a parc for free. Their repertoire was Folcloric music from the region of Vaslui. The manager of the orchestra agreed for us to record their performance.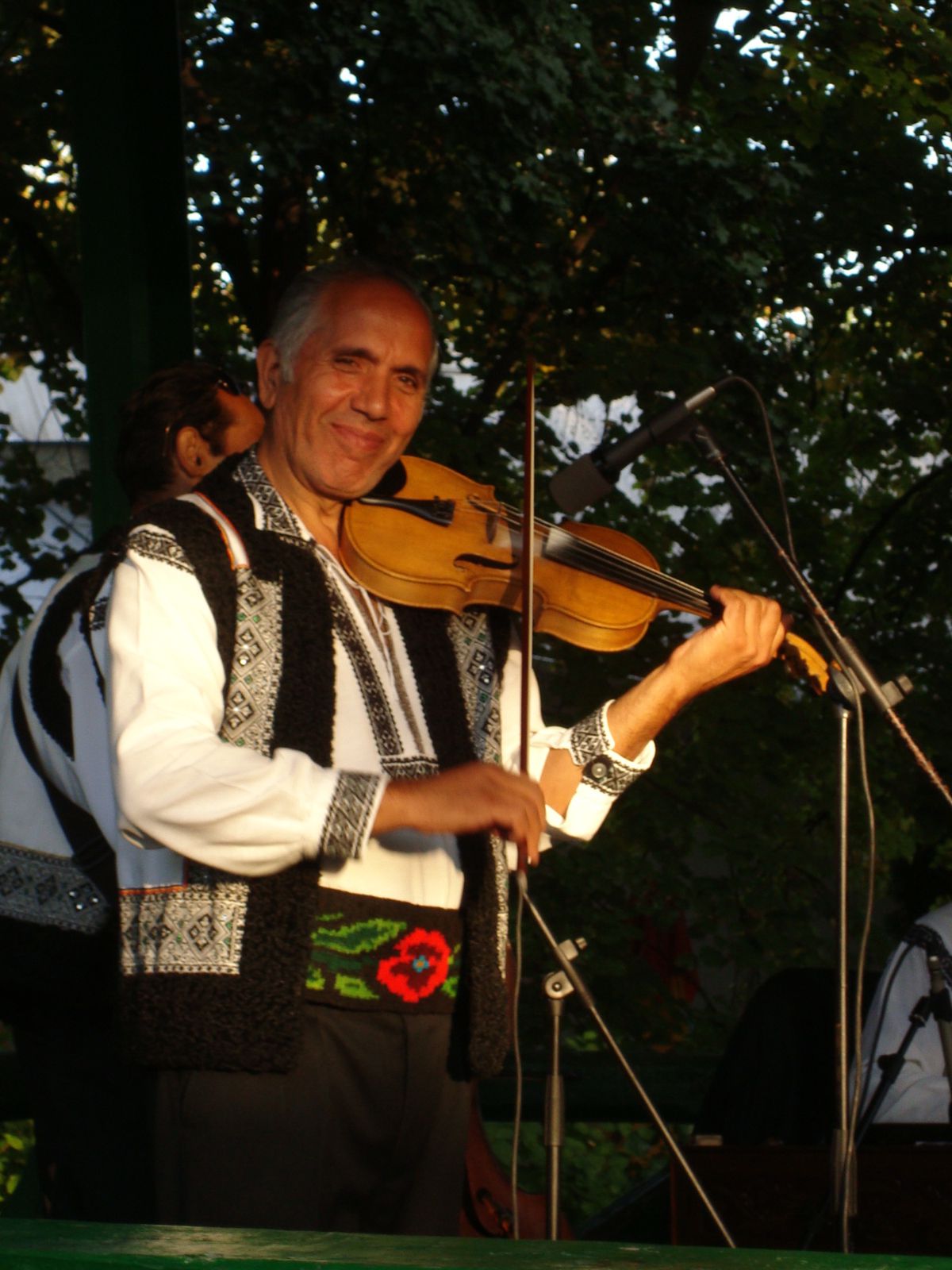 Our visit of Vaslui was short as we succeeded in doing everything in one afternoon. So the same day off we went in direction of Bucarest.
After driving for 250 km we arrived in Bucarest on the Monday. Driving in Rumania is a sport. The roads are not so good as there are a lot of holes. Pietons walk along the road but more on the road then next to it. Then there are the chariols with the horses that are not lighten up at night. So when it become dark, it is a big concentration execise to drive around. But even during the day it is a sport!! So obviously it took us some time to get to Bucarest. On top of it other Rumanians didn't have such a good impression o fthe city. They were telling us that driving in the city is next to impossible, that its dirty and that there are a lot of thieves.
Offcourse ones you arrive and see for yourself you realise how people can exagerate. Driving in Bucarest is not different then driving in Paris. There are areas in the city where buildings are a little destroyed or not maintained properly. At the same time the city doesn't seem so stressfull as it becomes very quiet during the night, all the stressing trafic is gone and there are sever al parcs.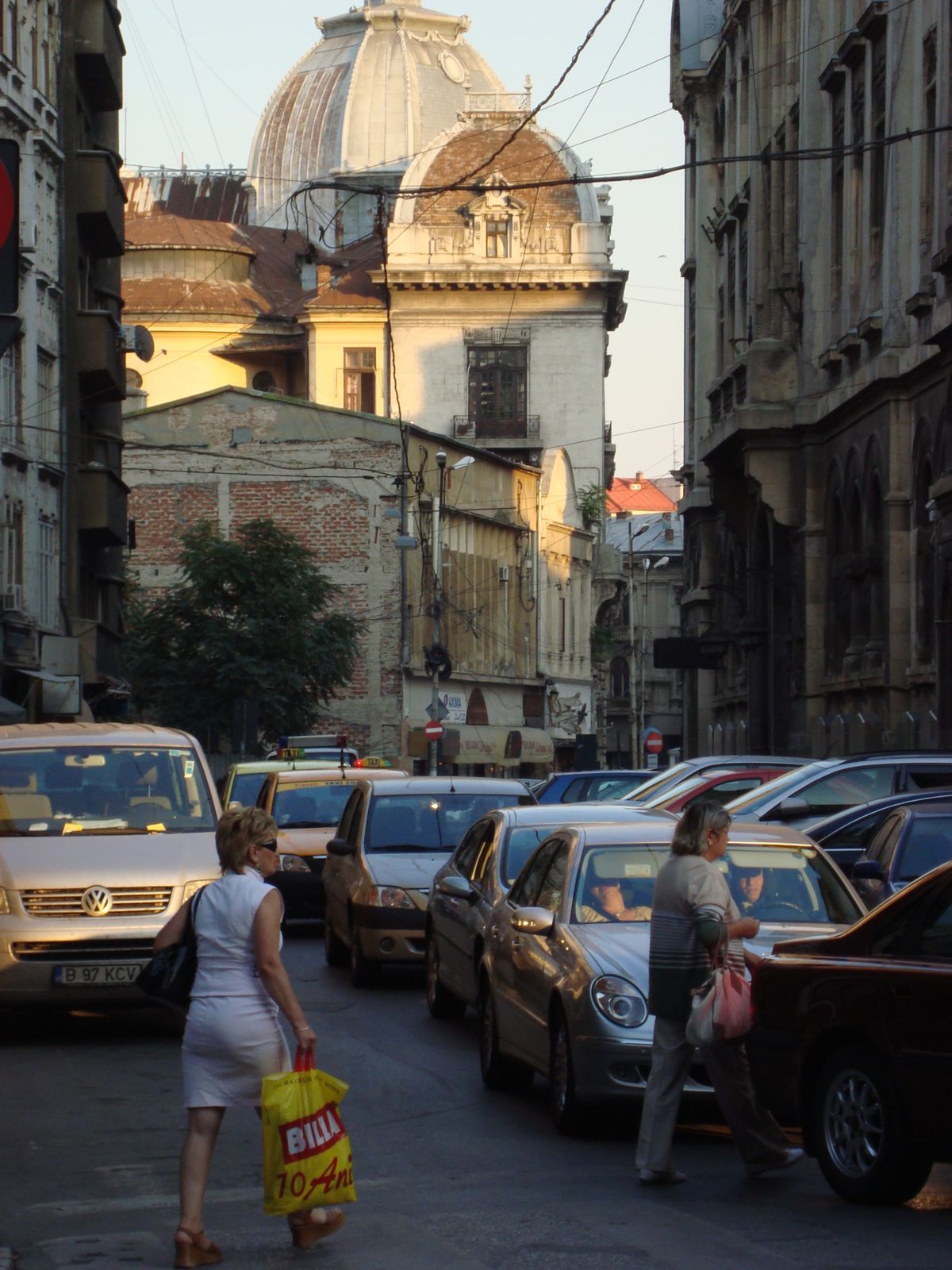 Next to the old buildings there is this huge parlament building, built during the communist era that is inlisted in the world guinness book of records. So things are not always so easy and clear as ones thinks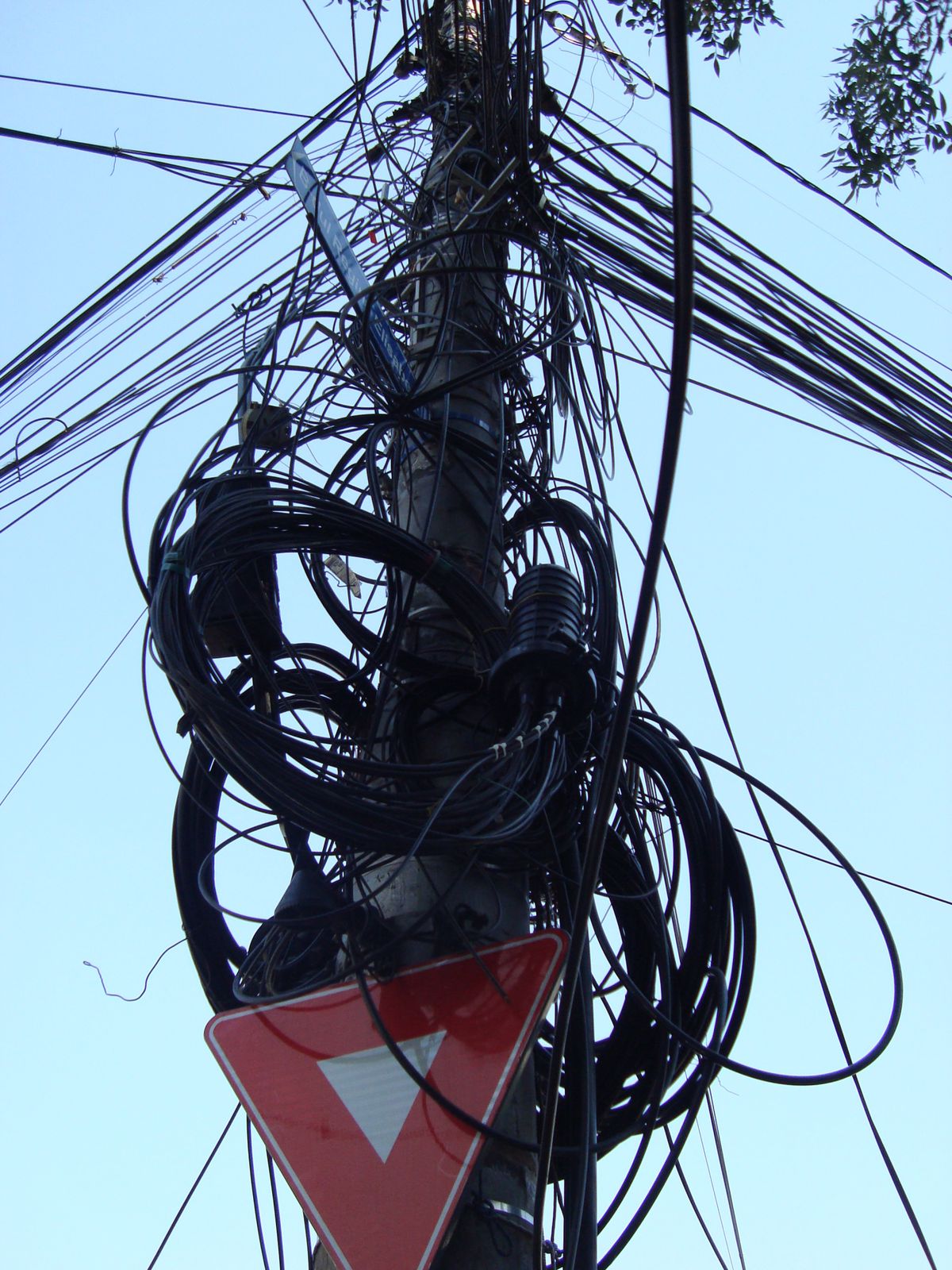 The first night we spend in a somewhat expensive hotel "Casa Victor". The second night in a very cheap one "Hostel Cazare" (not recommended !!) that impede us from a restless night. The other nights we stayed in our van next to a parc.
In Bucarest we met with a friend from a friend living for the last three years in the city. Jonas Mercier agreed for us to interview him about his life in Rumania and Bucarest in particular. Jonas is very delighted by the city and he gave us a 45 minutes interview and shared his view with us.
From a muscial perspective we had a nice encounter with Vlad Lica (a.k.a SJCongo). Ones in Bucarest, we didn't want to find folkloric or gypsie music, but look for more modern music in order to show the diversity in the country. SJCongo is a musician creating and making electric music. When we entered his appartment we couldn't beleive our eyes. It was a two bedroom apartment, in which the living room was transformed in a working space for SJCongo. A 10 square meter room was filled with keyboards, PC screens, samplers and I don't know what other devises and equiped that produce sound. SJCongo performed lively for us and we recorded his music for about 45 minutes. We still need to save a track in order to put it on the blog. During the recording SJCongo also provided us an interview in which he explains how he proceeds with his work. You can find more about his art on his myspace: www.myspace.com/sjcongo
During our stay in Bucarest, there was a music festival going on named after a great Rumanian composer George Enescu. We succeeded in getting tickets to go and listen to one concert. It was a concert of the trio called Paintings with Mr. Novikov at the piano, Mr.Unt at the contre bass and Mr. Melvin at the percussion. The piano was playing classical beethoven, Tchaikovsky music and the contre bass and percusionist were improvising on it. It seemed as a mixture of classical and jazz music. Unfortunately the acoustics in the room was not ideal for us to record. There was a strange machine sound that intervened during the concert.
We left Rumania with a very positive feeling about this country and especially its people. We extend a mulţumesc (thank you in Rumanian) to each one of them for their hospitality and there willingness to share their culture and music with us.