27 octobre 2009
2
27
/

10
/

octobre
/

2009
20:36
Before arriving in Turkey we decided that we will have our van painted and undergo an anti-rust treatment ın Turkey. We had an estimate from a mechanic in Paris that it would costs us around 1.000 euros. This mechanic was willing to do it undeclared so the price was lower then what it should be officially. Officially the price was around 2.000 euros in France.

We asked our Turkish friend Metin living in Paris if he could facilitate a contact with a car mechanic in Istanbul for us. So Metin would do this through his brother living in İstanbul.

Ones in Istanbul our first mission was to go and find the Tuna Oto, Metin told us about in a suburb of Istanbul called Bahçelievler. We drove to the ındustrial site where we saw hunderds of car mechanics. Bahçelievler was apparantly the place to be to get your car fıxed. With our little knowledge of Turkish we asked at least fıve to six times for the indication where this Tuna Oto could be. One thing is to ask, the other thing is to understand the answer.

Finally we entered another office (Yurek Otomotiv) with the Ford logo in front to ask for the Tuna Oto. Before you knew it four people were trying to find the person we were looking for. They called the number we had and told us that the mechanic of Tuna Oto was not in, only the assistant. Of course they were curious why we were looking for Tuna Oto. The son of the owner named Fukan came with his laptop and started a conversation with Olivier through a translation system on the İnternet.

We wanted two things:
1. the anti-rust treatment
2. the van paınted ın a new colour

As they also had Ford spare parts we also asked for the two rear lights and 1 front light to be changed.

The conversation started around 2 o'clock in the afternoon and continued for hours. They brought tea, the mechanics came to look at our car. We saw the colours catalog. They brought us to theır garage to show us around. After the different talking, it came down to asking for the price. The first price they announced was 1.700 euros for an inside and outside paintjob or 1.200 euros only outside paint. Our mouths were wide open, impossible impossible. Olivier put all his flare into work to lower the price. Something like 17:00 or 18:00 hours we succeeded in bringing down the price. We agreed on the final price of 700 euros for the following things:
the anti-rust treatment

the van paınted in a new colour (specific code was indicated)

three lights changed (two rear and one in front)
We had to come back the following Monday (12th of October) to leave our car and have it ready 6 days afterwards.
When we arrived the following Monday other talking was necessary. The unlce of Fukan was handling the paperwork and everything needed to be put on paper. İt took us again 1,5 hours to get everything settled, signed and to pay the downpayment.
The Saturday 19/10/09 we went to pick up our car. From far off we could already see it and……………….suprise surprise the colour seems darker then what we expected.
Ones arrived at the ofice we were warmly welcomed by the whole family. They even brought a cousin along that could speak english. We inspected the car carefully and then we told them that the colour was not really the blue we asked for. They looked surprise and went in search of the catalog to check.
Guess what. We were rıght!!!
Appologies all over the place. Apparantly they wrote the colour code on a piece of paper which had on the other side a colour. The mechanic didn't understand if he had to respect the code or the colour he was looking at on the backside of the paper.
Their suggestion was inviting us for lunch to clear matters. But we wanted to leave as soon as possible and not spent hours again eating lunch. So we accepted their appologies and suggested a 50 euros refund. They were not so willing at a start, but after some talking they agreed.
So finally we have a new Bubule colored like gendarmerie (fcontsabulary ın France) for a total price of 650 euros. İn the meantie we got used to the colour and we are happy with our new Bubule.

Judge for yourself the result.

This is the van BEFORE: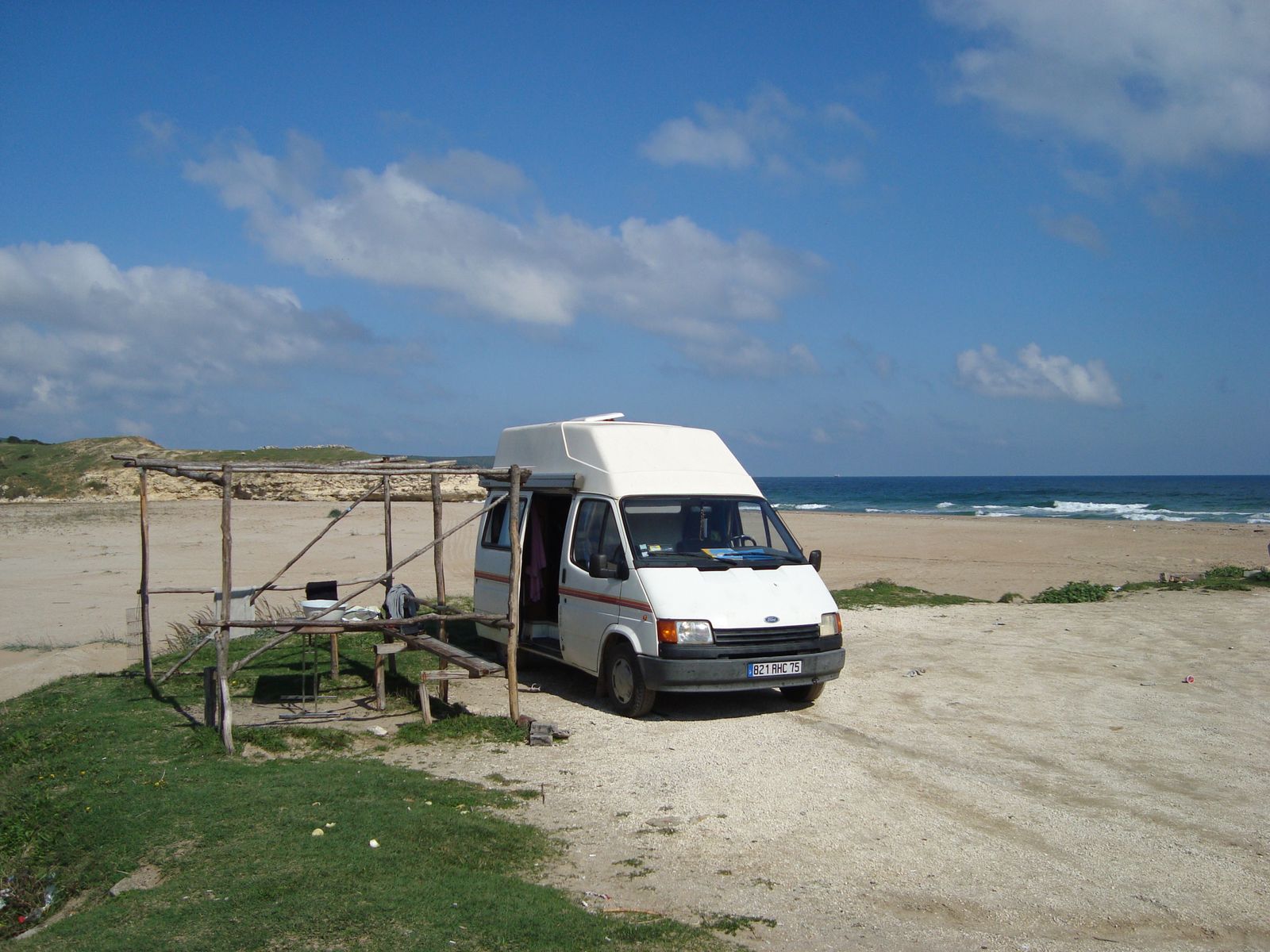 This is the van AFTER: