13 décembre 2009
7
13
/

12
/

décembre
/

2009
01:14
We returned from Montenegro to Croatia on Wednesday the 2nd of December 2009. One big difference between the two countries was the wheather. As soon as we found ourselves along the Croatian coast, it stopped raining and the temperature went up for a few grades. Eventhough all along we were driving on the same coast, natures does unexplainable things. Dubrovnik lies only at 30 km from the border between the two countries. We passed again at Dubrovnik as we forgot our USB key in an internet café. But we didn't have luck in finding it back, as the shop was closed for the season. Dubrovnik is as I said before very touristic, so there are places that are not open the whole year. No problem, because we didn't have anything of importance on the key.
That night we decided to park the car along the sea at a place called Zaton. The next day we were pleasantly surprised by a marvelous weather. We even had our breakfast outside, savouring the little beach where we spend the night. The water was cold though, but there was hardly any wind and it was very sunny. I decided that I really liked this country.
That day we drove in direction of the town called Split. We took the road bordering the sea, it was very nice. The road is higher so you have a spectacular view over the sea, which is nice and clear.

The villages are constructed at the sea level, so that provides you a nice view over the villages also. Not to forget the islands. Croatia is rich of approximatively 1.100 islands. Obviously you have islands of different shapes and sizes. But these islands seemed to be a very touristic attraction year after year in the summertime.
At a certain moment you have to cross the border again. Bosnia & Herzegovina has a tiny coast line at the Adriatic sea long of 15 km in their territory. We had to present the passports twice in less then 10 minutes time. For us it was a good thing that we had to go again through Bosnia & Herzegovina as it gave us the opportunity to fill up the tank. The oil prices are less expensive then in Croatia.
We decided not to go directly to Split that day, so we made a stop in a town called Malarska. Malarska was a cute little touristic town along the Croatian coast. There were fishermen selling their catch of the day on the banks of the sea. Eventhough the town lives up in summer, we still found this Rock & Danski bar managed by a german. The barman called a Croatian musician he knows and we had a nice encounter with Ivo Selak. Ivo is a drummer in a Rock & Roll band called Dudlasi. Their first album came out recently and he offered us his CD. It was nice talking with Ivo about music in Croatia and in France. Their band didn't have any concerts programmed, so we couldn't hear them in live, but Ivo gave us a contact of a musician in Split. Another friend of Ivo and the barman joined the conversation and appeared to be a real connaisseur of French music and litterature. So we spend a nice evening talking with these guys with the tunes of Dudlasi in the background.
The next day we had to drive only 60 km to get to Split. Split is the second or third largest city in Croatia. The city is very well situated along the sea.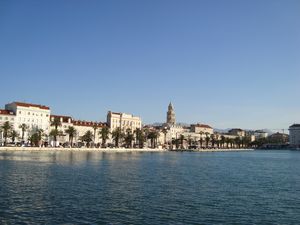 There are several boat trips leaving for the Croatian islands, but also to Italy. The city is not soo big, it has history, events in the evening, not dull during the cold months of the year. Just next to the center of the city there is a tremendous park, where people go for jogging, walking, cycling etc. In cities we prefer not to sleep in the van, so we rented a cozy private room in a house very centrally situated for two days.
The first night in Split, we didn't really knew where to go and find music. The old town used to be a palace during the roman empire. There are parts that look more like remains of the palace, but other areas that are well preserved, people live, go shopping and you find bars and cafés. These places didn't seem very active with live music. But the next day everything paid off.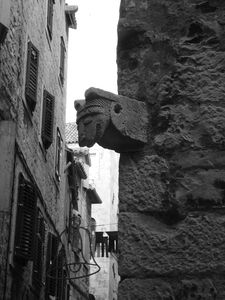 We started off with a nice breakfast in a place where the owner spoke very good English and also some words of French. The owner used to work in one of the most expensive hotels in Split. He had a picture of him taken with the late french president Mitterand that dated from 1993. He explained to us that Mitterand visited Split in that year with the intention of going to Sarajevo, but that he didn't succeed in getting to Sarajevo, probably due to the war going on.
After he breakfast we went exploring the city. We started off on this long pedestrian boulevard on the seaside filled with bars, terasses and also a Christmas market. This boulevard seemed like the place to be on a sunny saturday morning and afternoon. There were people everywhere and it was very much animated. For this time of the year, they organized musical performances in the street. So we encountered this group singing what we learned that is called "Klapa", which are traditional Croatian songs. After their small concerts we had a talk with them and they told us about this Klapa festival later on that same night in a suburb of Split. While looking at their concert, I even got interviewed by this Croatian tv network. It was so quick and took me by surprise so I didn't have time to mention our blog on the Croatian television, but it was fun anyways.
During our visit of the city, we bumped into Nino a street musician playing the guitar and singing as well. Nino offered us a small performance consisting of a medley of songs sang in Croatian, Spanish and English. He was very happy with the attention we were giving him and thanked us for making a small video of his performance. A painter called Mladen Vulas that was standing close by, heard us talking in Spanish to Nino and came to talk to us in a good spanish. Mladen has quiet some paintings about the town and also nice sketches that I particularly liked. Mladen gave us a DVD with some films he makes about his paintings and also daily life in the city of Split, you can admire one of his films in a seperate article on this blog.
That Saturday night we had two places to go and listen to music. There was this live concert in town organized for this this holiday season. We attended the concert of the group called Zinedin Zidan. The group consisted of four musicians playing pop music. We spoke with the guitarist, Dean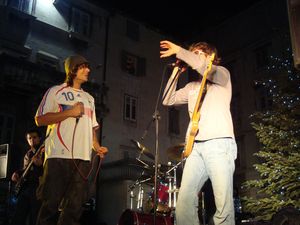 who was keen about our project and agreed with us recording them. The singer was giving a very lively and funny show to the audience. It is a pitty that we couldn't understand the lirics. They seemed sometimes very funny and other times taking a more political point of view. After the concert I had a brief conversation with the father of the singer, who told me that he went ones to Curaçao to work in the dry dock. He was now retired, but he had a nice memory of his short visit to Curaçao years ago. You will be able to enjoy a song from the group in a seperate article on this blog.
Later that same evening we went to the Klapa Festival that was being organized in a suburb of Split called Solin. We had a little hard time finding the gymnase where the festival was being held. Ones we did find it, we absolutely didn't regret attending the concerts. There were several choirs of men and female singing in accapela.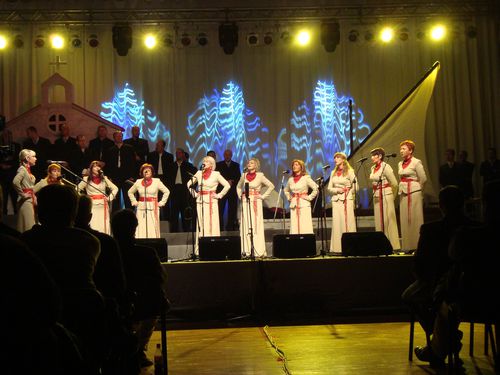 Their wonderfull voices filled the gymnase that was quiet big. The audience was not making any noice during the different performances, obviously taken by the beauty of the voices. We were completely enchanted by the performance. We made several recordings and you will definetely be able to listen to one of the groups. We also propose you a small film of one of the male choirs. Hopefully you can listen for yourself very shortly to hear the beauty of these voices.
On the Sunday (06/12/09) completely satisfied from our musical findings, we were ready to leave Split. We left the town driving along the coastline. During our journey we paid a visit to a piturestic peninsula. Before going land inwards we decided to head for the city along the coastline called Zadar. The city had city walls circling an old town like we have seen many in Croatia. We spend that evening updating the blog in order to share with you our different adventures. We also spend that night along the coast, to be sure to enjoy the last moments of good wheather. Ones we were leaving the coastline, the wheather would probably get colder.
Indeed the inland of Croatia is quiet mountaineous it is colder and there are less villages so less people living in these parts. The peaks (at approximately 1.600 metres) we admired from a distance where covered with snow. We drove by natural parcs with rivers and waterfalls, where you apparantly can make hike on nice walking during the summer. We drove for about 200 km to get to a town called Karlovac which lies in the Northwest region of Croatia. Our purpose was to get to Slovenia. On the road we were stopped by policemen, what again ?? Apparantly you have to drive with your lights on 24 hours in Croatia. We explained to the officer that we have been driving for more then a week in Croatia without knowing this and as it was daytime, we didn't think it was necessary. We also threw in another argument that we didn't have money as we were heading for Slovenia. We are not sure which argument prevailed, but the officer just told us that the fine is as high as 300 kunnas (approx. 28 euros), but that he was letting us go.
Ones we arrived at Karlovac, we just went to buy some groceries. The town didn't have anything spectacular to offer. We decided to look for a place to spend a quiet evening, a little bit exhausted of all that driving. We thought finding this perfect place along a small river in front of a few houses. A lady in one of the houses was not agreeing so much. We just turned of the motor or she came out pointing her telephone and telling us in Croatian that she was going to call the police. She didn't want to hear about anything and she was quiet agressive only talking Croatian. Without understanding what she was nagging about, we could understand that she was not being nice. Olivier told her some not nice words in French and we decided to leave. Fifteen minutes afterwards we found a quiet place in front of a church with a cemetery close to it to spend our quiet evening. We gathered that neither the Croatian pastor nor the croatian dead bodies would be bothered by us spending the night there, and we were right.