17 octobre 2009
6
17
/

10
/

octobre
/

2009
09:18
As you all can see I used a french word to name this article. A word everybody understands as it is a vital part of the French culture. After having lived ten years in France, I have to ackownledge that you get used to this art of cuisine and I grately appreciate it. The main question in this article is;


What have we been eating on this trip since we left France last August ?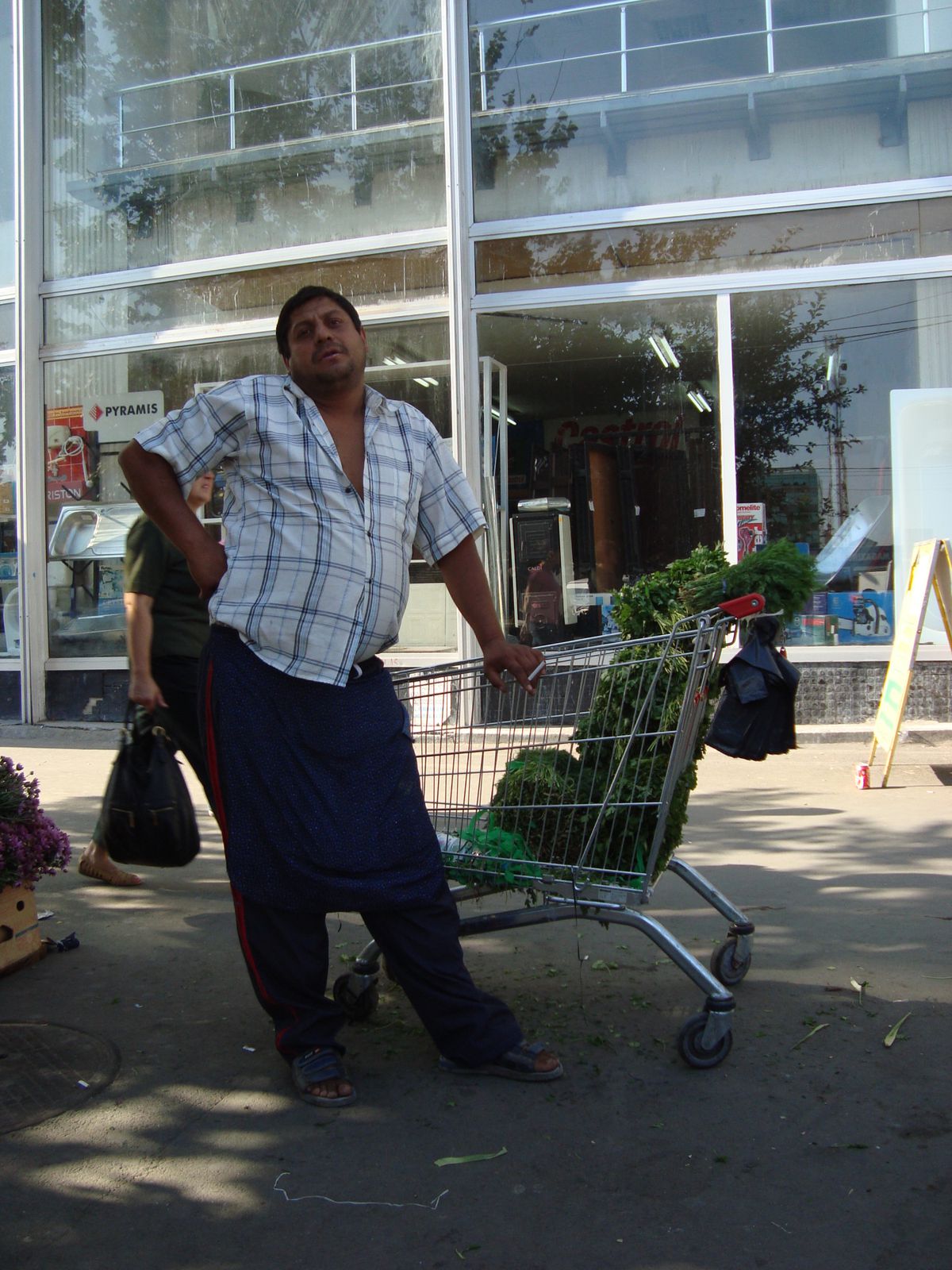 I decided to provide you a quick summary of the different dishes we tasted in the countries we have been going through until now.
You have to know that most of the time we prepare our own food in the van, but sometime we eat out in order to discover the cuisine of the visiting countries. I will be pinpointing the highlights for you.
Frankfurt:
Bratwurst (sausages) of all kinds, potatoes and a green sauce made of herbs to be eaten with potatoes (kartoffel) especially. To accompany these wonderfull dishes the german propose beer, beer and beer to men and women. We also drank Apfel Wine, a slightly sparkling wine made of apple.
Czech Republic:
They take some kind of white cheese and put bread-crumbs around it and fry it. It becomes a steak made of cheese. They accompany this steak with something called domplings. To form these domplings it seems that they pressed white bread together in order to form a circle.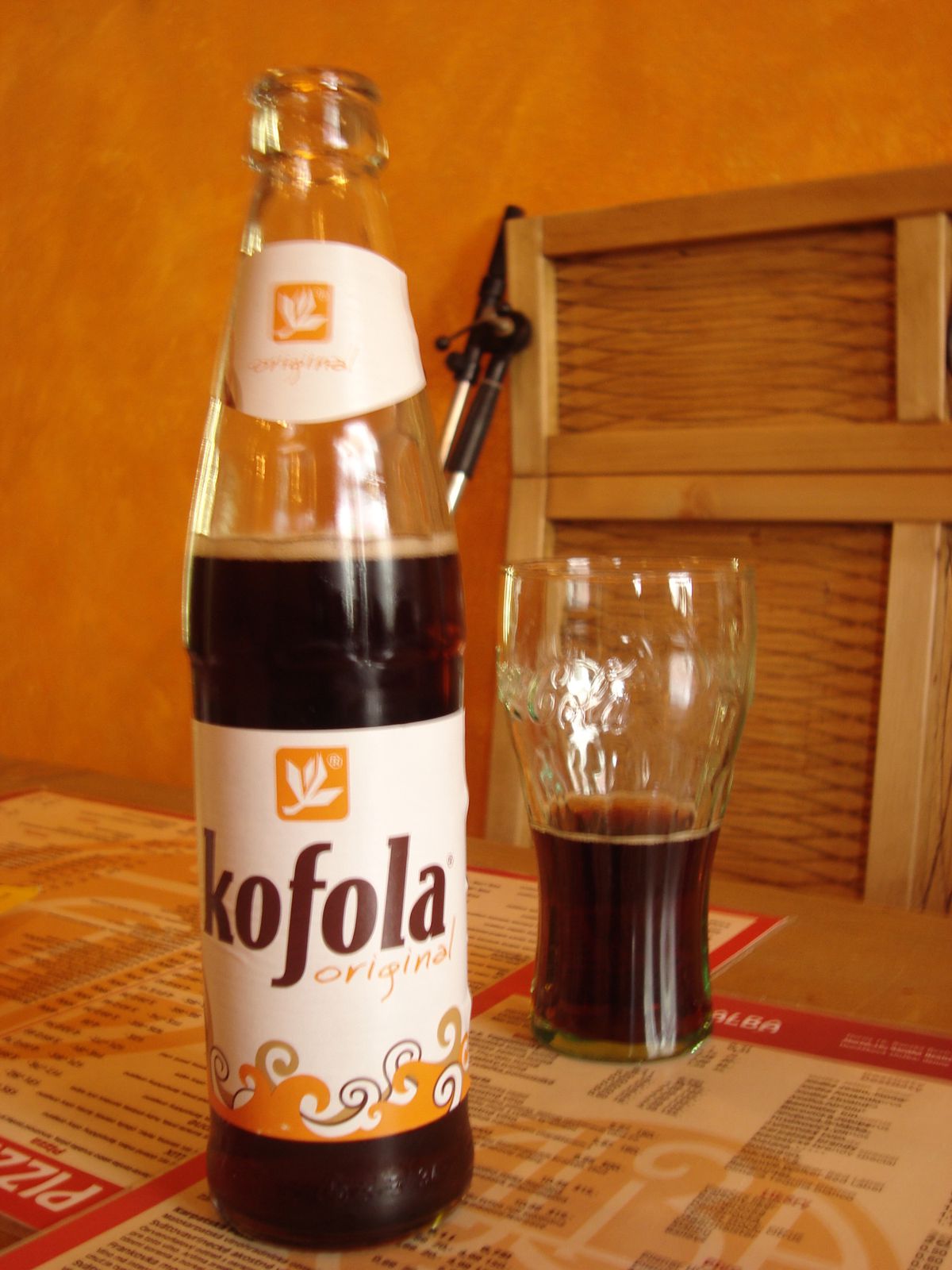 You shouldn't have been eating anything for about two days, if you don't want to get a stuffy fealing after eating this dish of white cheese and domplings. I called these domplings a spunch for beer.
They also make croquettes of potatoes. They take mashed potatoes form it in a little tube, put bread-crumbs on it and fry it. Sometimes they are home made and can be tastefull, but some restaurants serve you an industrial made croquette, so nothing particular abour it. In Czech Republic they have there own local Coca Cola which is called Kofola and is tasteful with much less sugar and carbonated then the american brand.
Vienna, Austria:
We stayed only 1 night and decided to have dinner in a Turkish restaurant. The following day we did go to the municipal swimmingpool and we were astonished in seeing so much obese and I mean not just fat. Men and women, young and old they were all very big and over-weighted. The snackbar at the swimmingpool was only selling fried stuff and sausages. So we thought if the Austrian eat mostly sausages, fried dishes and drink beer, no wonder they are so big.
Slovakia:
The few times we went to the restaurant in Bratislava we have eaten Italian food; pasta and pizza. So we didn't get the opportunity to really taste their typical dishes.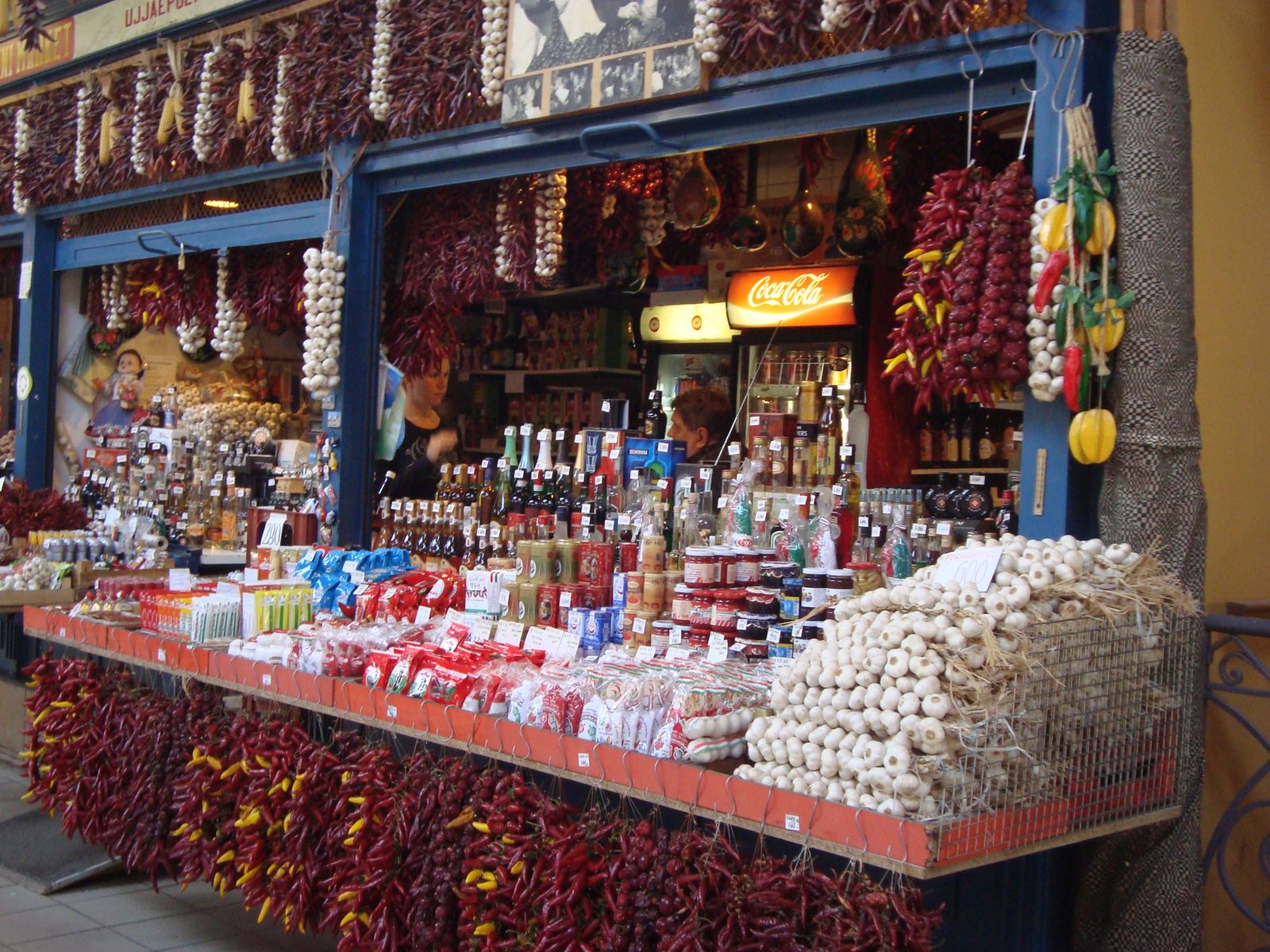 Hungary:
We liked very much this cold plum soup they make. We tried noodles made of potatoes with cream sauce made of sheep cheese. The white hungarian wine named Tokaj accompanied well the dish. We had a pancake/wafle with fruits and ice cream (typical dessert in Hungary). The struddle was also tastefull. It is like a thin pancake with different stuffing and rolled up. We tasted two that had a sweet ad sour taste; pumpkin & berries and cheese & fruits.



Rumania:
The best food we had until now in this trip was prepared by Maria Pantiru in Zece Prajini. She made us a ciorba (soup) of beans. The next day we also had a polenta accompanied with fresh white cheese of cow and a sausage. Just before leaving she made fritters filled with cheese with a vanilla sugar powdered on top. All her dishes were homemade and very tastefull.
She prepared in a simple pan, a very good Turkish cafe for us.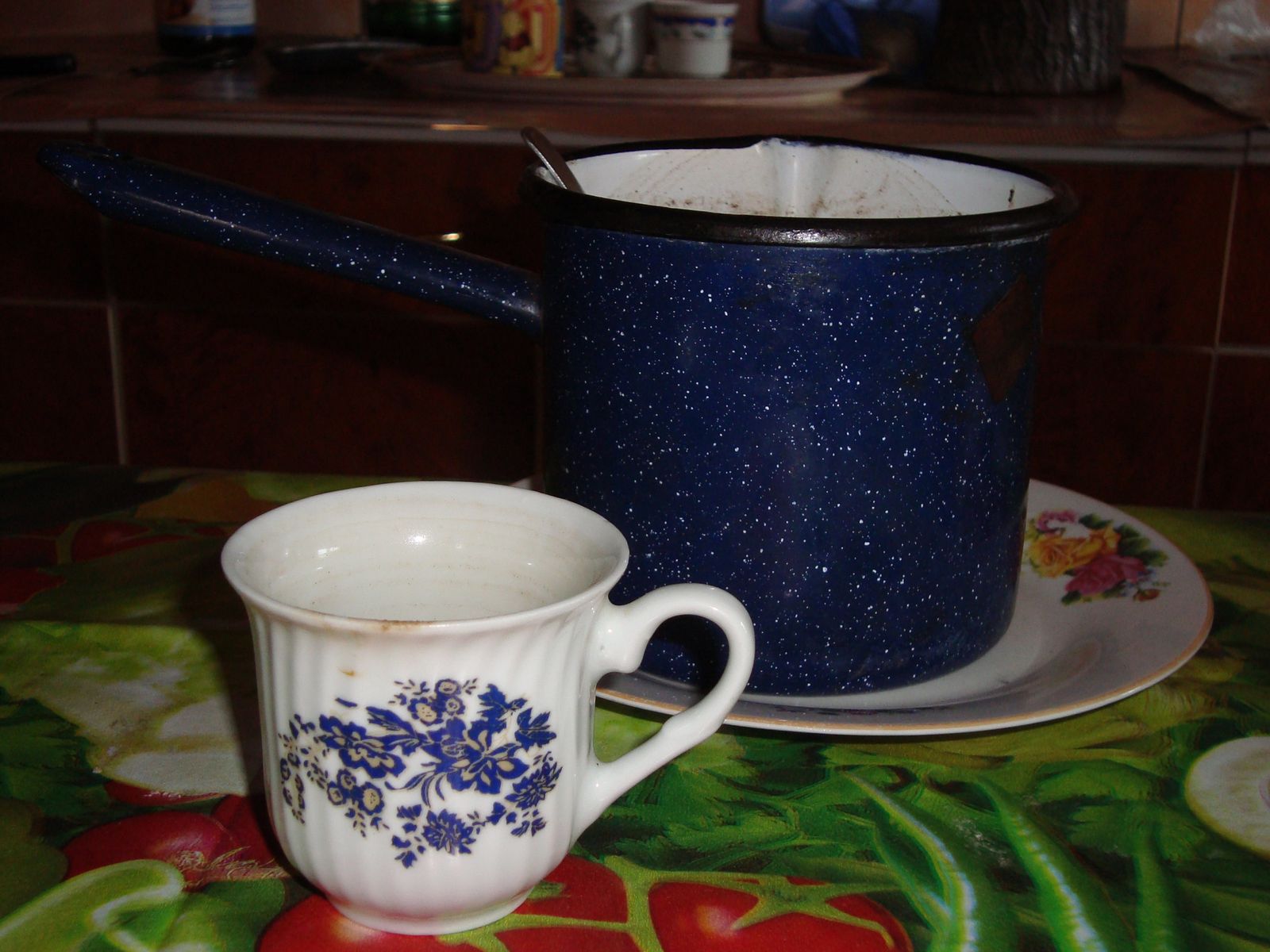 In Oradea I asked the waiter to explain me a dish. She told me that it is veal, so decided to take it. Ones the meal was served I realised that it was tripe. It was ok to eat, but if you imagine veal and they serve you tripe, then you are somewhat dissapointed.
We had often ciobra in Rumania and it was very good. Sometimes it was accompanied with sour cream that made it even more tastefull. As a dessert, Olivier took a donut filled with ice cream, which was quiet heave as a dessert.
Bulgary:
As we were along the coast we had quiet a lot of fish. Everytime we ate somewhere, I took fish soup. The first place we have eaten, we took the only fish they had on the menu. It was a plate filled with small sized fishes, even smaller then sardines. The fishes were complete with head & tail and fried. Olivier and I took time taking off the head and cleaning the little fish (as it was not cleaned), but others in the restaurant finished before us as they were eating the whole thing in one bite. We had several times salad that was most of the time prepared with the same ingredients: tomatoe, lettuce, cucumber and red onion. Sometimes it had white cheese and black olives as a variety.
Turkey:
They also serve ciorba (soup). We had white bean soup and lentil soup, both of them very tastefull. The white bean soup is accompanied by rice as a side dish. With our friends at Kirkalerie we had fried fish, fresh catch of the day fried especially for us. Tülay made a salad (tomatoe, lettuce, olives, onion and parsley) accompanied with a simple and very tastefull salad dressing made of oil and lemon. As dessert we had a very sweet melon and wallnuts with their homemade honey.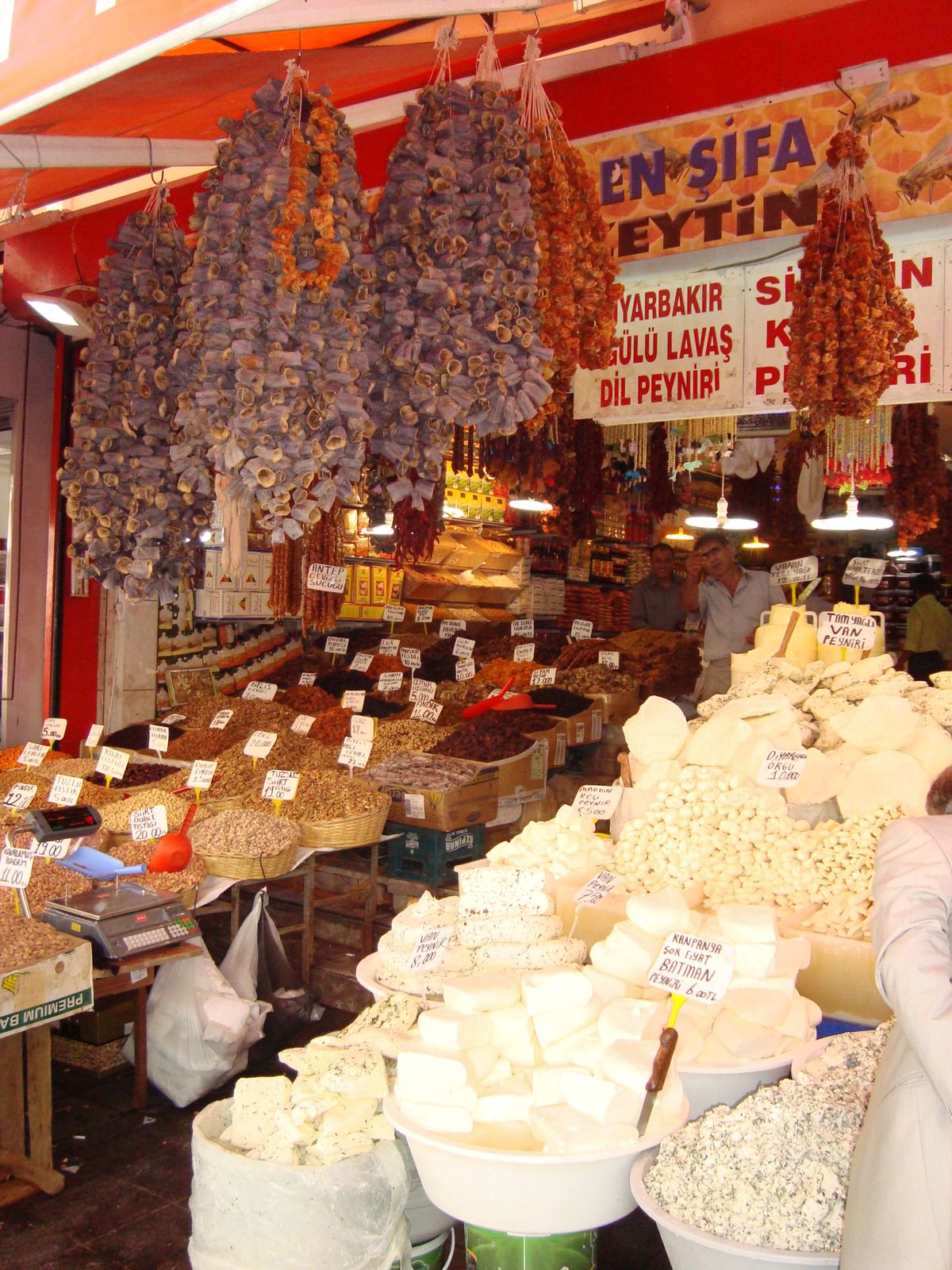 I ate kofte, which is a meatball with tomatoe sauce. After every meal, actually the whole day you can drink çay (red tea) in Turkey. We had eggplant salad, green olives mixed with nuts and grenadines (very original). Turkish people like to eat spicy food, they can put pepper even in a salad, so watch out!! With some dishes they take Aryan, which is a yogurt drink slightly salted, which is not bad.
Offcourse we had the Turkish delight, the pastries made of fruit and covered with glacy sugar.
Until now the cuisine in Turkey seems to have bigger variety, even if you see the same dishes in all the restaurants.











In other words we are OK, but......................Damn, we miss the french cuisine!!!