17 novembre 2009
2
17
/

11
/

novembre
/

2009
22:30
We left Thessaloniki on the Tuesday (10/11/09) end of the afternoon. From Thessaloniki they indicated "Skopja". After driving approximatively 100 km we arrived at the border that was mentioned as the borderzone. So no mention what so ever that you are getting at the country named Macedonia. We passed the border smoothly, without any long procedures. The procedure was so short that we didn't even obtain a stamp in our passports.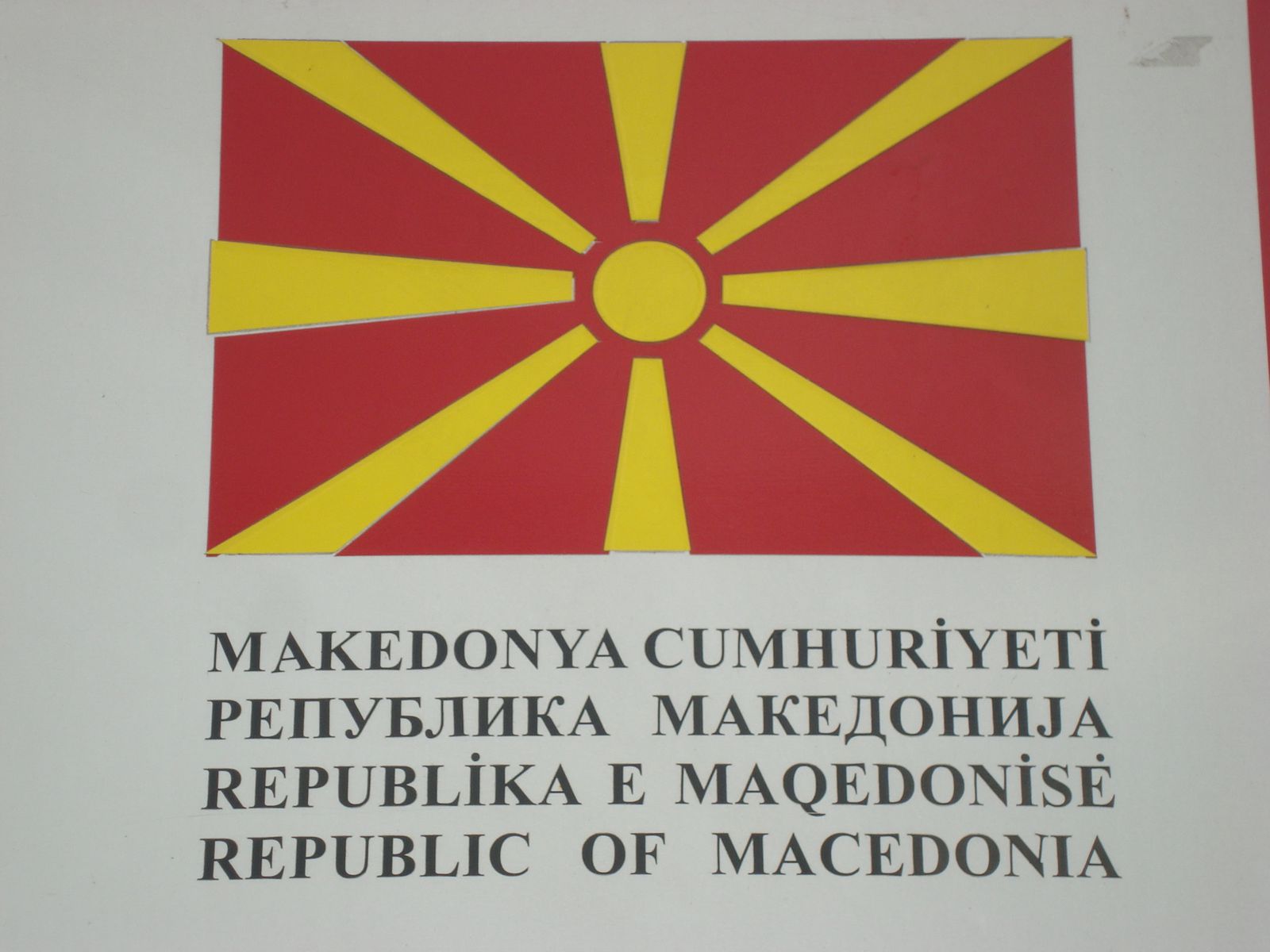 The road in Macedonia was hardly lighten up, but it seemed as if we were driving in the middle of mountains with no light at site, showing any indications of villages. We finaly stopped at a village called Demir Kapija. We parked the van between some railroads and another road.

So the next day we were woken up by the sound of trains on one side and the sound of trucks on the other. We started off the day, in the meantime it was noon already, with a wine tasting.

The idea came up as there were indications about a winery in the village. We decided to visit the winery called Popova Kula. A young gentleman was our guide and showed us around the caves and gave us explanations about the grapes they use and the wines they produce. The visit consisted also of looking at the whole building, the hotel rooms and the restaurant. Olivier tasted three different kind of their red wines. One was Vranec which is a Macedonian type of grape. Then Prokupec, which is serbian and a Merlot. He seemed pleasantly surprised by their bouquet and aroma. We bought two bottles, as we cannot stock to much in Bubule and headed in direction of a town called Prilep.

Somewhere on the road we took a wrong turn and we realised that we were heading to Stip which was in the opposite direction. I must say that it is not difficult to loose your way in Macedonia as the signs are almost unreadible. We decided to continue anyway as there was no particular reason to choose one town to another. At a certain moment we entered into a small village heading in the direction we thought was good. Arriving at a brigde I saw a board with an image of a gunmen, but didn't pay too much attention to it. Good thing that Olivier read was written (even in French) on the board. Do not tresspass as this is military zone. We immediately took a turn and I realised that some boards are perfectly readible and even very important to read.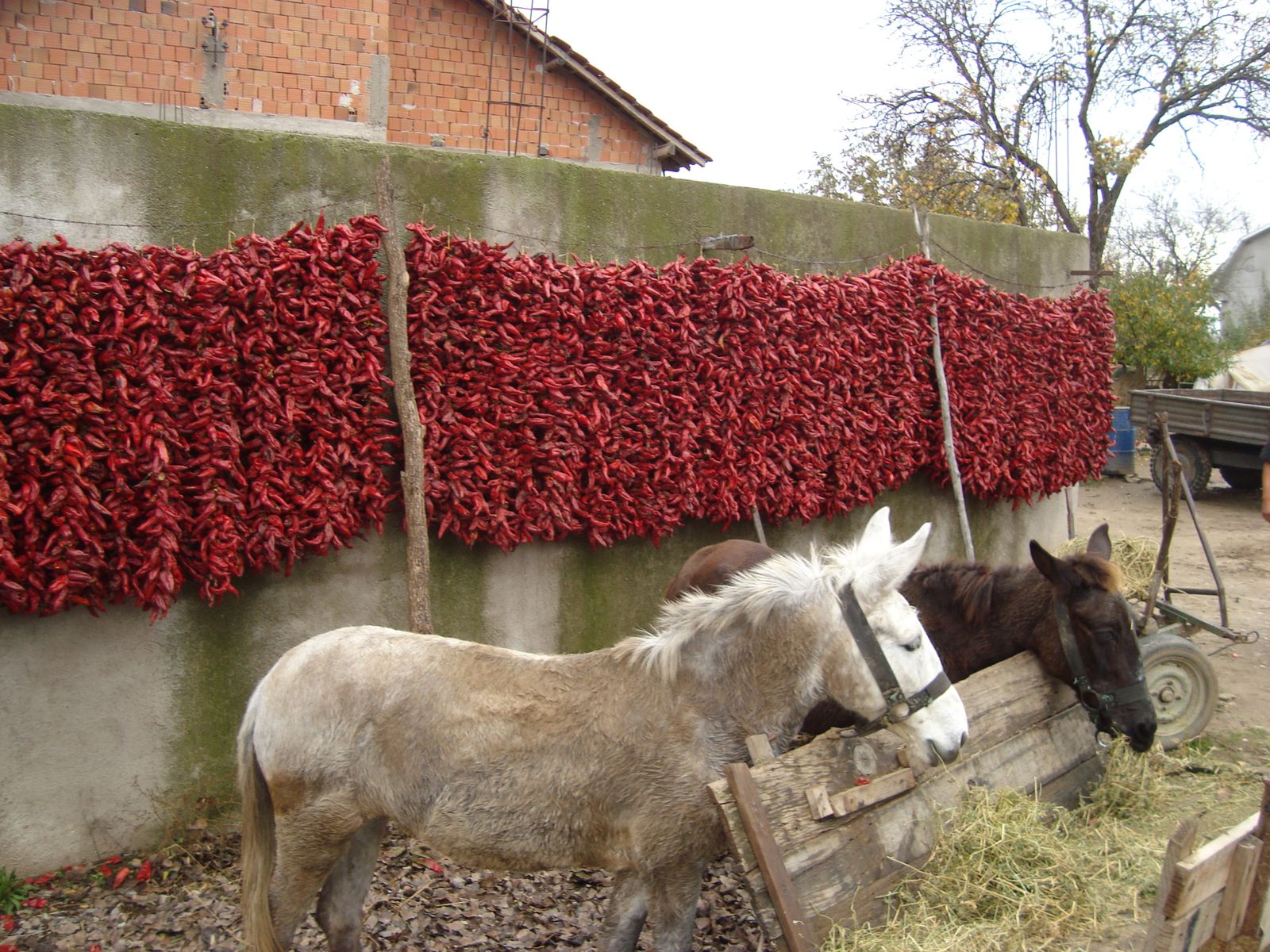 The people in the village just before the bridge saw us coming again. We stopped in front of a house were they were drying peppers, to take some pictures. Before we knew it the owner of the house brought us dried pepper to take with us and also pepper in vinegar. We only had some chocolates to give for the children in exchange. But they didn't seem to mind to receive anything in return. Finally we did found ourselves back on the good road in direction of Stip.


The scenery was very beautiful filled with autumn colours in a bit moutaineous area.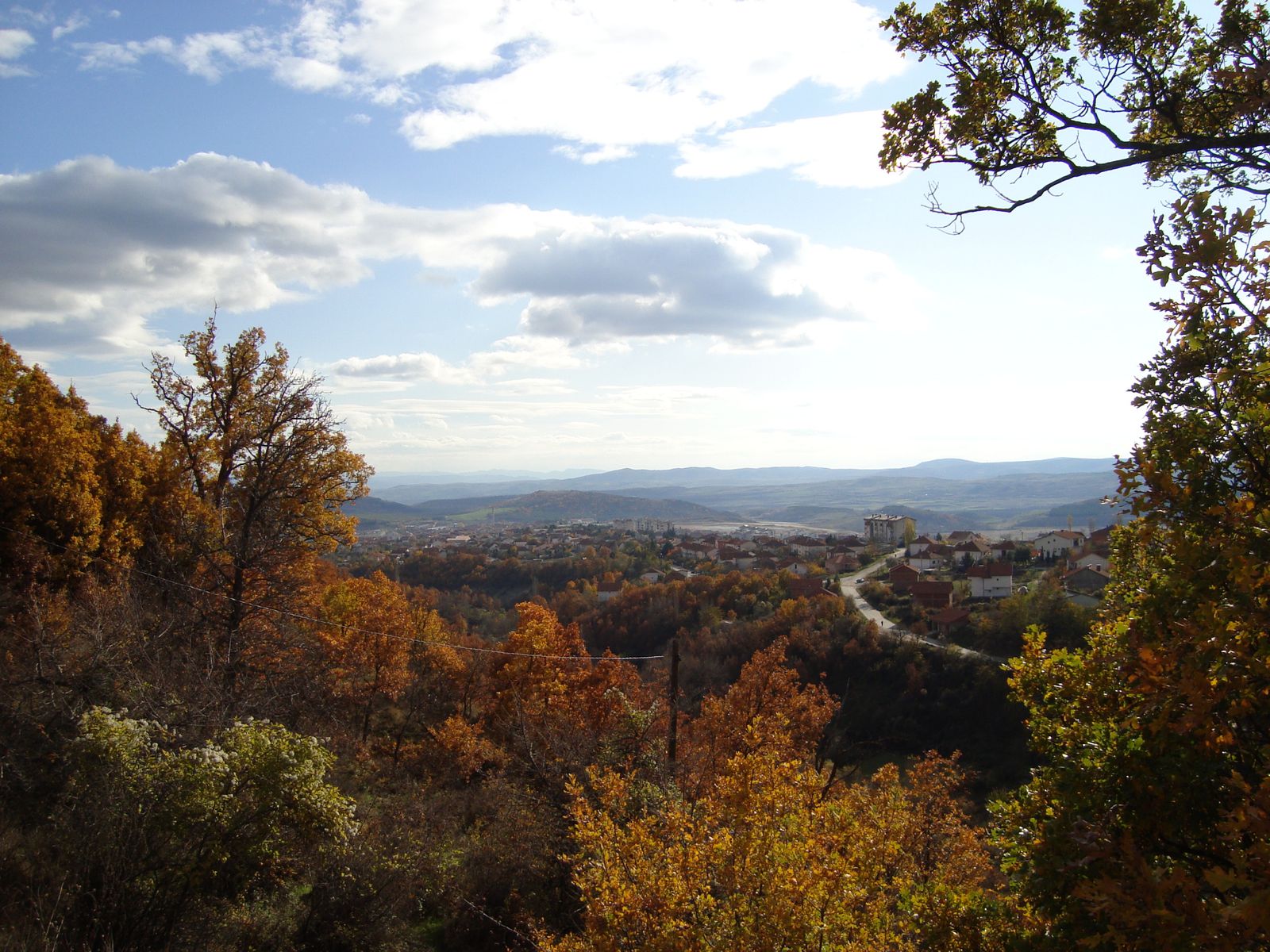 On the road to Stip we had to stop for 15 minutes as they were working on a bridge, taking off the asphalt and nobody could go through. After passing the working barrier we found ourselves 5 km further down in another trafficjam. This trafficjam was longer and the drivers in line seemed to have stopped their cars. Olivier went to have a look and it seemed that a car accident occurred involving three cars, with only car damage. We took a turn and tried another road that wasn't so helpfull. We needed to pass on the same road with the car accident to get to our destination. So we decided to wait. At the end it took the Macedonian police at least two hours to clear the area. Finally we arrived in Stip in the evening hours and decided to stay in a hotel to get some shelter from the cold.

The next morning our first mission consisted of finding a garage man to have a look at our car. We had the impression driving a truck that was pulled by horses. The car was shaking a little bit everytime we changed gear, especially in the morning when the motor was cold. And also it didn't go up smoothly the hills. So we asked around and this second gentleman drove us to the center of Stip to "the best" garage man in town. The car mechanic could speak english and came to have a look at our car. In less than 10 minutes he understood the problem. Apparantly a one of the four cable connecting the starks was not functionning. So we had three starks instead of four functionning. He changed the cable and the problem was solved! We could pay him whatever we wanted and 400 dinar (equivalent of 6,5 euros) seemed a good price to him. After the repair we had the impression driving a porche instead of a horse carriage. So off we were heading for our future kilometers.

We decided to go to a town called Kocani. The reason why we wanted to visit this town, was because Olivier saw on French television, a few years ago, a television report about a brassband named Kocani Orkestar. We thought that maybe we could find musicians to record in the town.
On the road to Kocani we gave a ride to some students doing auto-stop. The students go to university in Stip but they live in another town at a distant of 30 km. As there is no bus or any other kind of transportation, they have to do auto-stop every beginning and end of the week to go to Stip and to go back home. Makes you wonder about the comfortable student life in other european countries.
Ones arrived in Kocani we realised that it was a medium size town not very small. So we wondered if we could find easily the musicians we were looking for. In the first café we stopped to have a drink, we asked the waitress if she knew the Kocani Orkestar. She asked her colleague and then indicated us another table where there were musicians. One of them, Kirk Devil, came to us and gave us the telephone number of Naat Veliov, the director of Kocani Orkestar. When he saw that we couldn't make the phone call ourselves, he called Naat Veliov himself. Kirk Devil told us that Naat couldn't come to meet us in the centre, but we could go to his house. Kirk Devil went outside of the bar, it seemed as if he picked up the first teenager walking by and asked him to bring us to the house of Naat Veliov. We had just time to finish our drinks and off we were to meet the director of The Original Kocani Orkestar himself.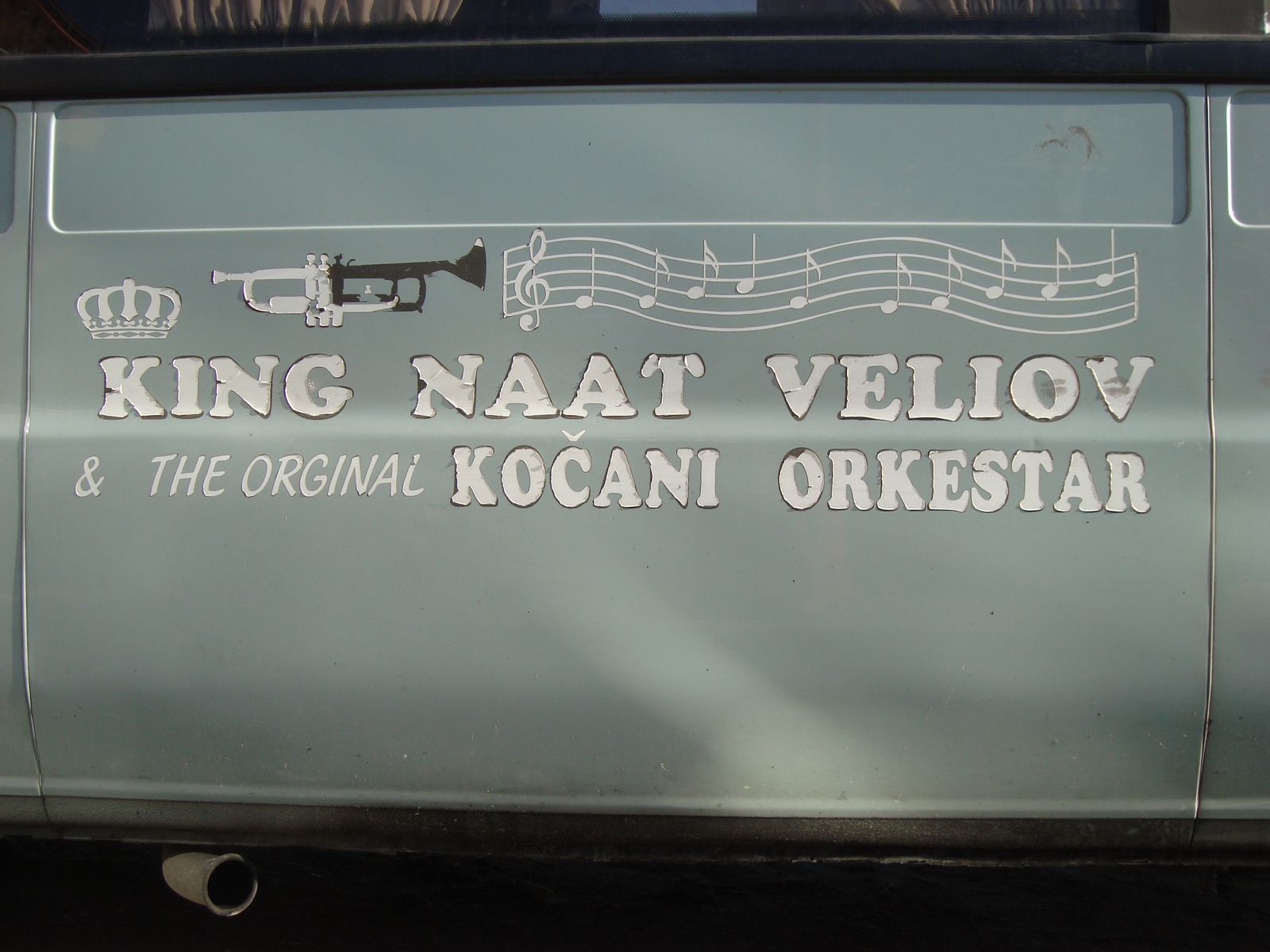 Fifteen minutes afterwards we were standing in front of the biggest house in the neigboorhoud and were welcomed in French by Naat Veliov. He welcomed us in. He explained to us that he succeeded in building this house for him and his family thanks to the different concerts they have given abroad. We met with his wife Mima and the two daughters; nine years old Melanie and two years old Melissa. Naat explained to us that times were difficult now a days and they didn't have very much concerts programmed in western european countries. Naat made us listen to his music. He is a trumpet player himself and the Orkestar consists of eight other musicians.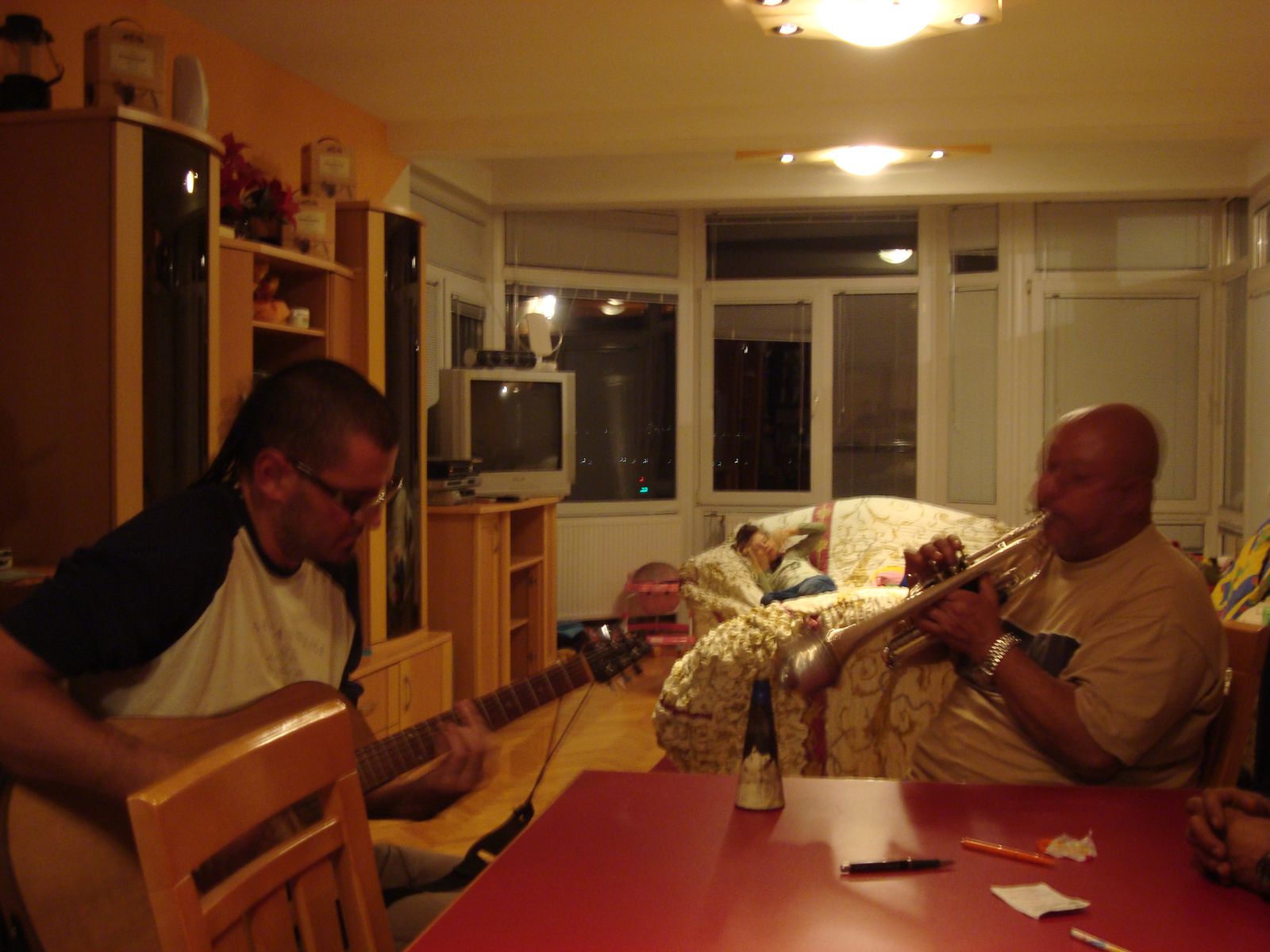 Olivier took his guitar and played some tunes together with Naat. We found ourselves (again) in a very warm hospitality. They invited us to stay over for dinner and the night in their house and suggested we make further plans the following day. Mima prepared us some great salads and also sausage and mutton. Mima spoke good English, so we could have a cross conversation in English with Mima and in French with Naat.

The next day it was a national holiday in Macedonia, named the day of the tree. So children were off from school. In the morning the deal was made with Naat. Naat would gather the musicians to come and play at his house for us to record. We would participate in buying groceries in order to organize a BBQ. So said so done. In the afternoon there were seven other musicians gathered at Naat.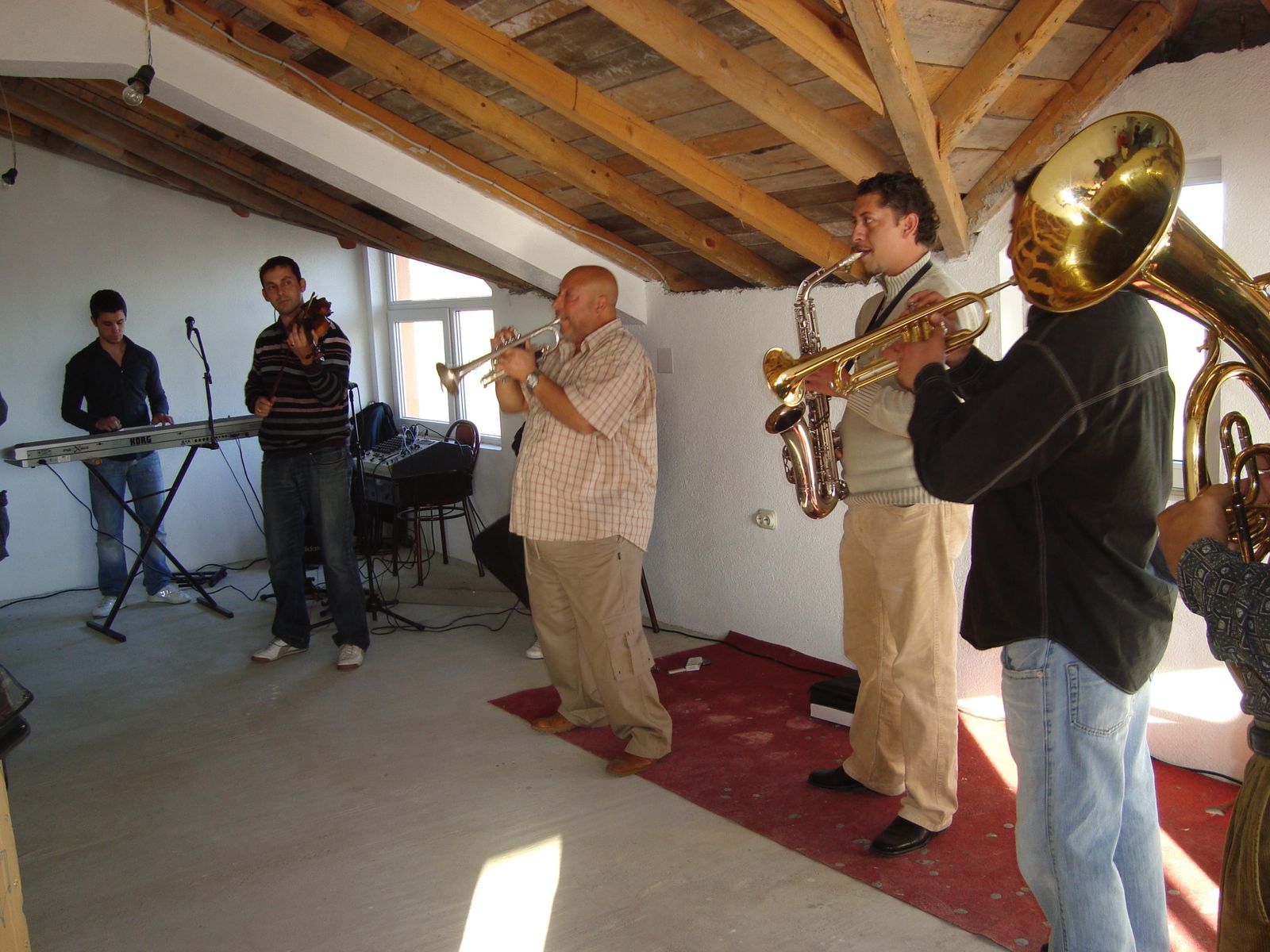 Together with Naat himself there were two trumpet players, one saxophone player, one playing the bariton, one percusionist, one guitar player, one violinist and one playing the keyboard. In all the brassband was almost reunited. Only the musician playing the tuba was missing. They played three different songs, one more festive than the other. You can have a look at one of the video recordings we made during their performance.

After their performance it was time for a dinner. A very nice BBQ was waiting for all of us. In the meantime other family members joined us. The BBQ started outside as it was sunny and not so cold. But more the night continued more it became cold, so the dinner was continued inside. We had a chance to experience how much Macedonian like to meet eachother around a table to talk and enjoy a meal. I thought that French people like to sit at the table to eat. But French are nothing compared to Macedonians.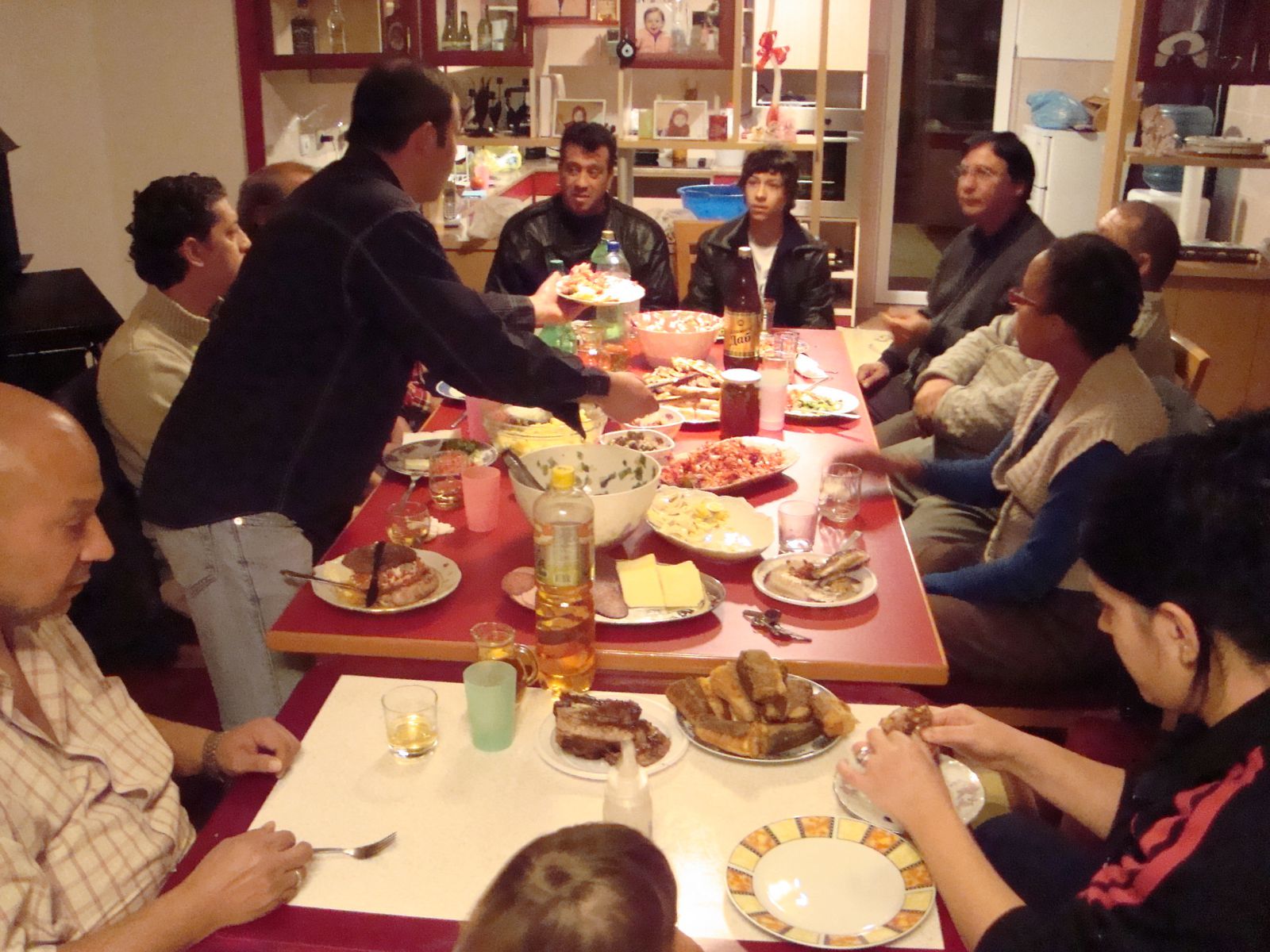 In total they stayed that night something like 12 hours at the table eating. At a certain moment, I had enough and went to sleep, so I heard about the time the last visitors left the next morning.

The next day after endlessly thanking our hosts, we continued our journey.
Our next destination was the capital of Macedonia called Skopje. We celebrated our 10.000 km milestone at a town called Cesinovo, which was on the road to Skopje. The milage of Bubule is now showing 132.446 km. In order to celebrate this milestone, we paid ourselves a fancy restaurant in Skopje. As it was Saturnight in Skopje, it was not hard to find live music. We went to the bar called Mama's, where a rock band was programmed. We apparently arrived early around 23:00 hours, the band started playing around 00:30 and before we knew it the bar was packed. The band played good. They played internationnaly known covers and also Macedonian songs. The audience seems to like very much and they sang along most of the songs. We didn't record any music in the bar as it was very crowded and we didn't have the opportunity to discuss with the musicians beforehand.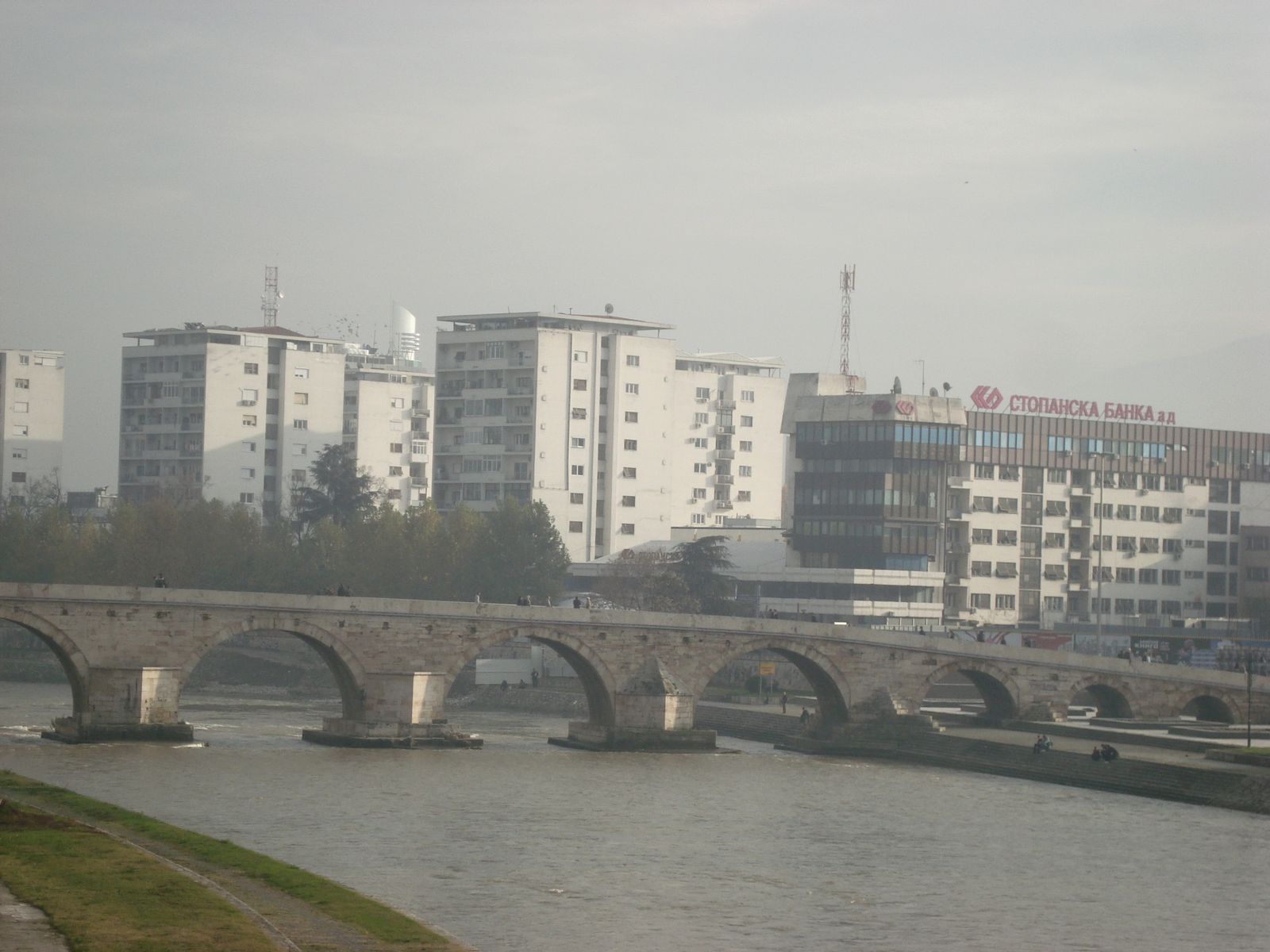 The first impression of Skopje was that this city was not the most nice city. But the city does have a natural beauty. The city is situated in a valley and it surrounded by hills and mountains. Both nights we spend in Skopje, we parked our van on the upper side of the town, so we had a nice view over the city. In the evening the city seemed quiet covered by the smog. In the morninghours it is more clear and we have a nice view over the city. The Sunday (15/11/09) we visited the city. There is a micture of cultures and religions in this city (actually in Macedonia) in general. You find orthodox churches as well as mosques. The Macedonians of muslim beleive speak Turkish and are from Turkish origin. At house of Naat Veliov there were a few family members that were speaking only Turkish among themselves. In the town of Skopje we also found the teahouses filled with men playing cards or other games and speaking Turkish. Very peculiar.

In order to keep up with our habits, we went to a wedding party on the Sunday night.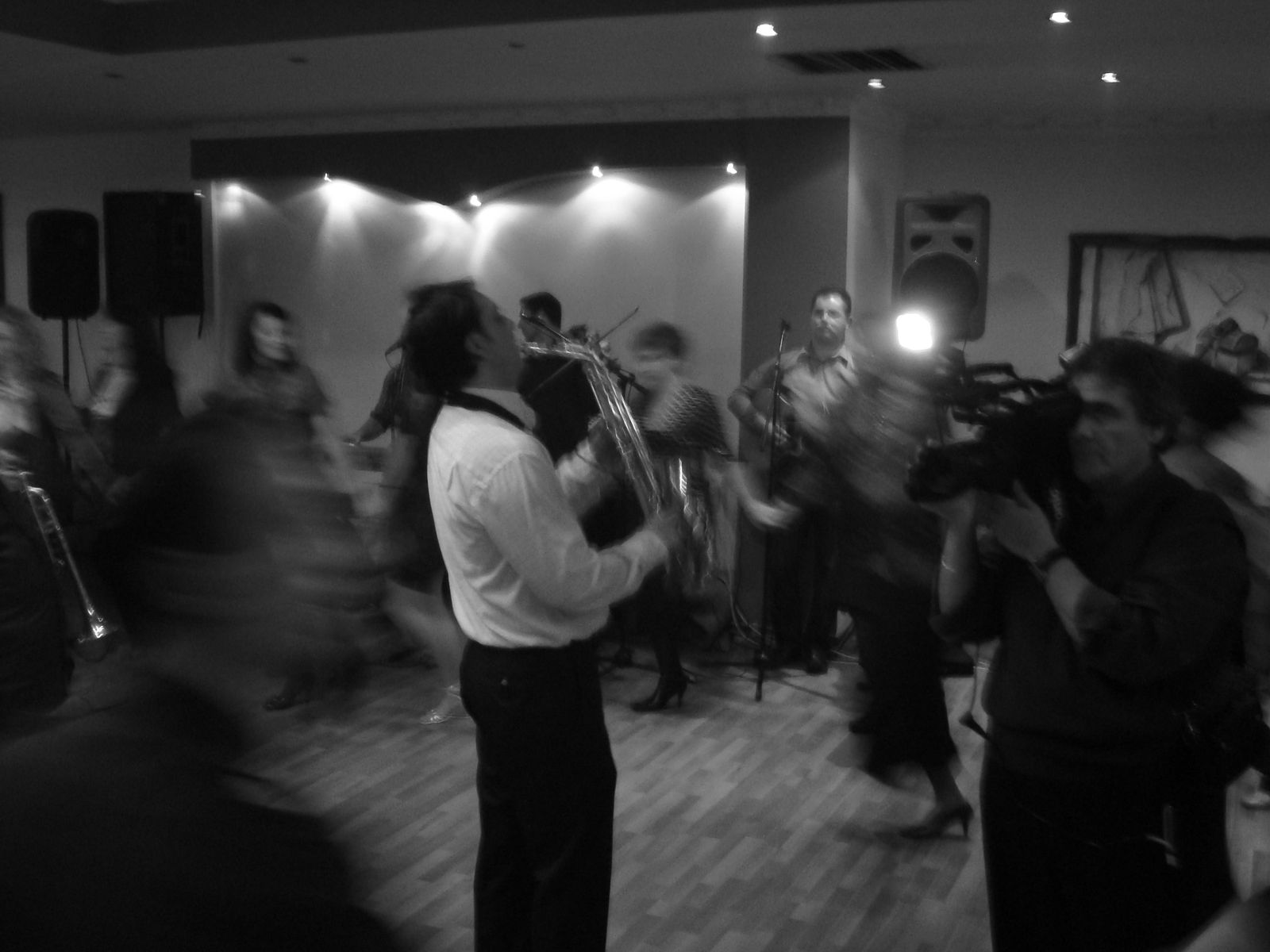 Naat Veliov was playing with some other musicians and he suggested us to stop by. There were five musicians in total, violin, guitarm keyboard, trumpet and saxophone. The party started a little bit dull with slow easy listening music. When the two wind-instruments started playing, the party was completely transfromed. Nearly everybody started dancing and the two players of wind-instruments were in the middel of the circle. We didn't record any music at this occasion, just enjoyed of the evening with the other (real) guests.

We visited an orthodox church and also a very nice gallery of contemporary art that was located in a former Hamam, dating from the Ottoman period.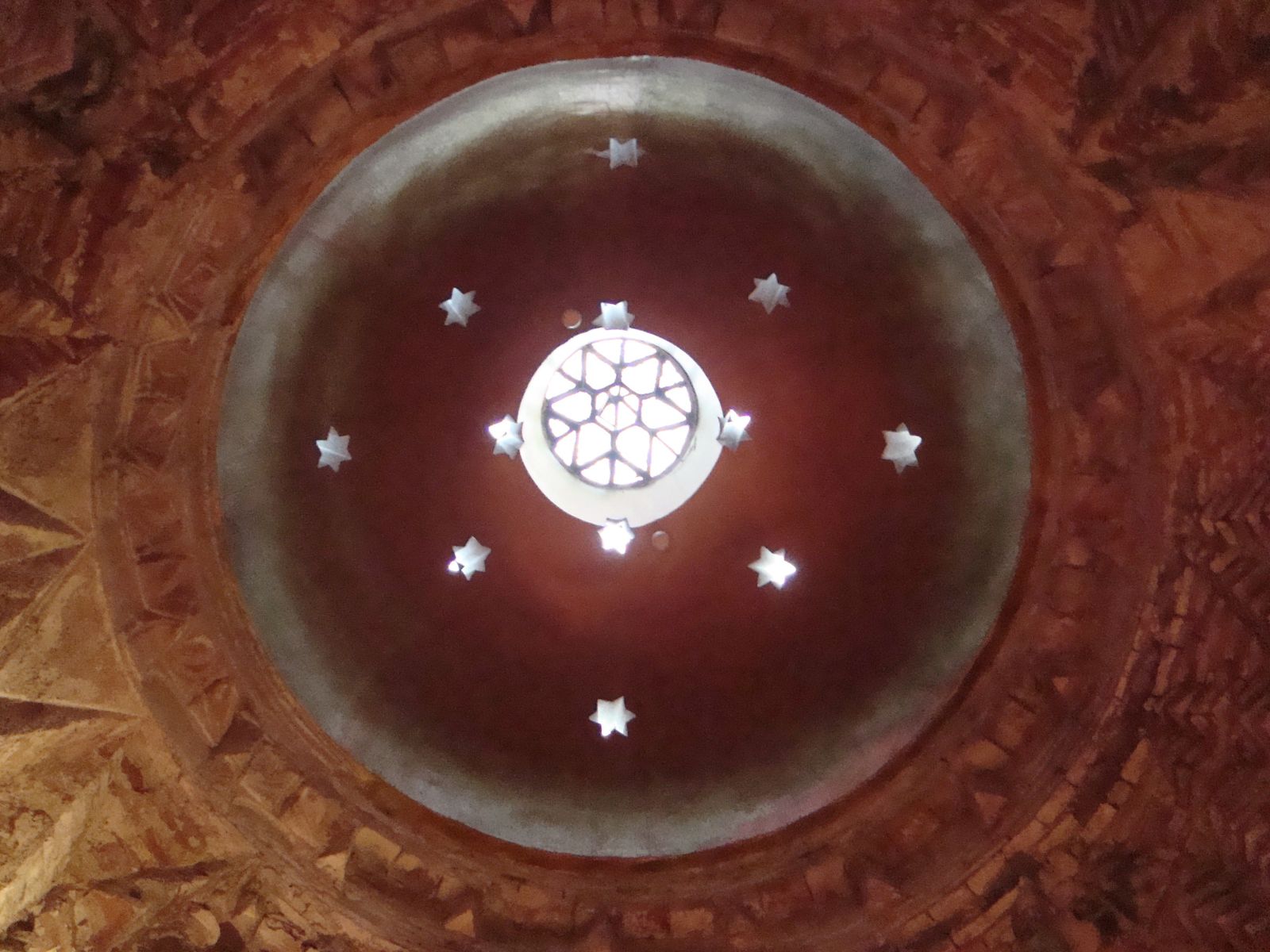 On our last day in Skopje we visited the old part of the town that was quiet charming, with little houses, shops and a nice food market. In this part of the city you are plunged in a totally different environment compared to the rest of the city with huge building blocks. The city seemed to be a fortress as this old part of the town seemed to be protected by walls. You could visit the remains of these walls and apparantly great work is being done to restore these walls.
Before being able to leave Macedonia, we had the unpleasant surprise that we had to return to Stip at the hotel we stayed, as we forgot our passports there. When we checked in they took our passports as some kind of warrantee and when we checed out they forgot to give it back and we also forgot to ask. So we had to drive 80 km to go and pick up our passports. Ones we had them back, we drove back some 80 km in order to reach the border of Macedonia and Serbia. We passed through a town called Kumanova, just to buy some groceries and spend the last dinars we had in our wallets.