31 octobre 2009
6
31
/

10
/

octobre
/

2009
11:40
We arrived in Istanbul on Friday the 9th of October. We parked the car at hasard in the first neigbourhood (Fatih) we found. Fatih appeared later to be our neigbourhood of reference in Istanbul.

The first impression of this city is that it is densely populated. You see houses, apartments all over the place.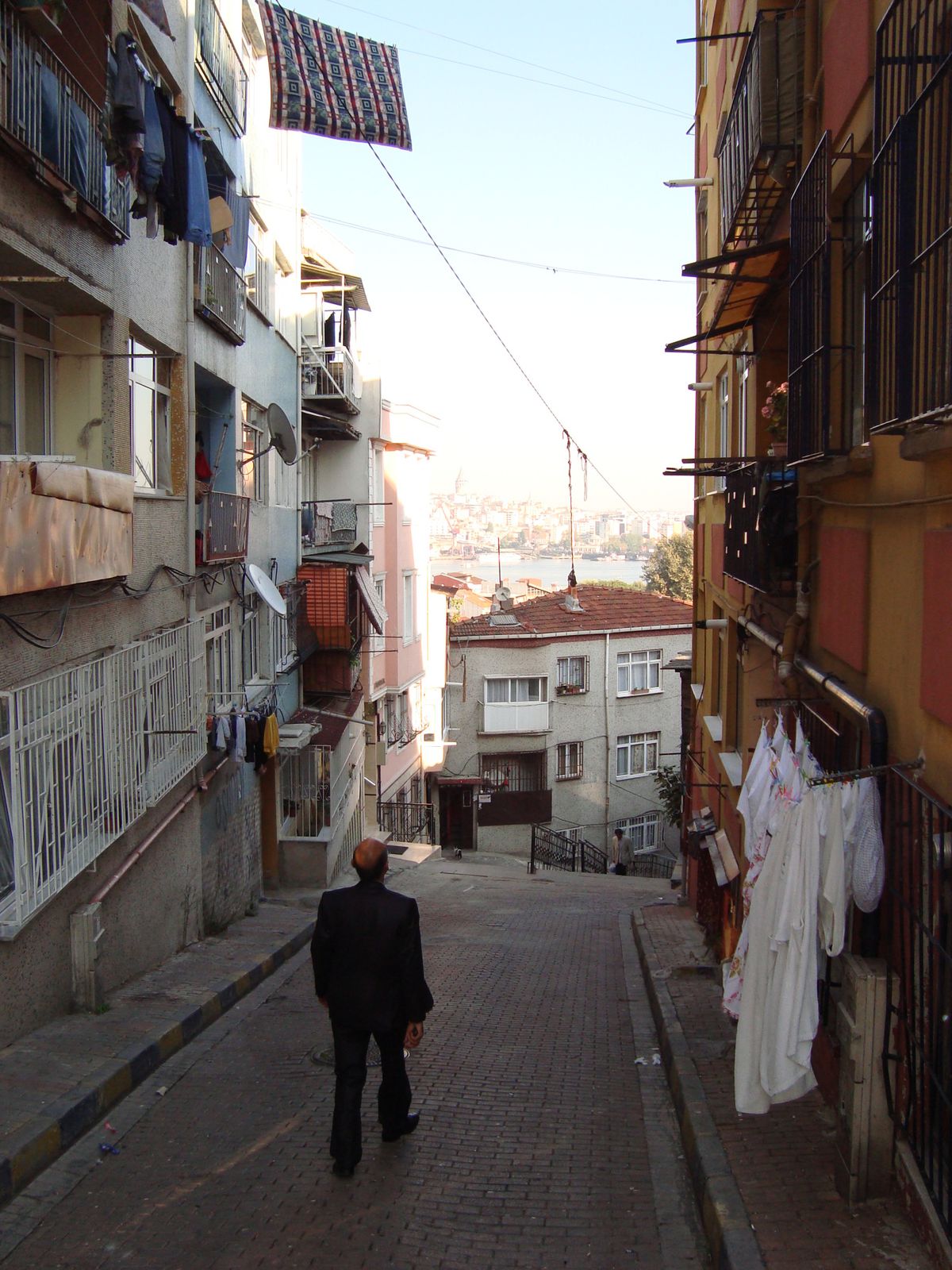 We went to have a walk in the city in order to discover it a little. We strolled along the Haliç (Golden Horn), quiet a big river separating some neigbourhoods from the city. Then we went in the little streets, until we could find a map of the city. This city is like a labyrinth. You get into a street and another and another when you get out you are on a totally different avenue then the one you started off with. The city is built on several hills, you are always going up or coming down when you are not walking along the water. The city is so big that it will take a lifetime to get to know it. There are aprox. 12,5 million inhabitants, so this city is part of the mega agglomerations of the world.






I thought that there were lots of children in the streets that are not shy at all and come to talk with you. Most of them asked the same questions in english. First "hello" then "what's your name ?" and then "where are you from ?". Ones we had the experience that some kids were getting really anoying and asking for money. Most of the time you just brush them off, but this time the kids insisted more than we wanted to. When Olivier got angry with them they found their way very fast away from us.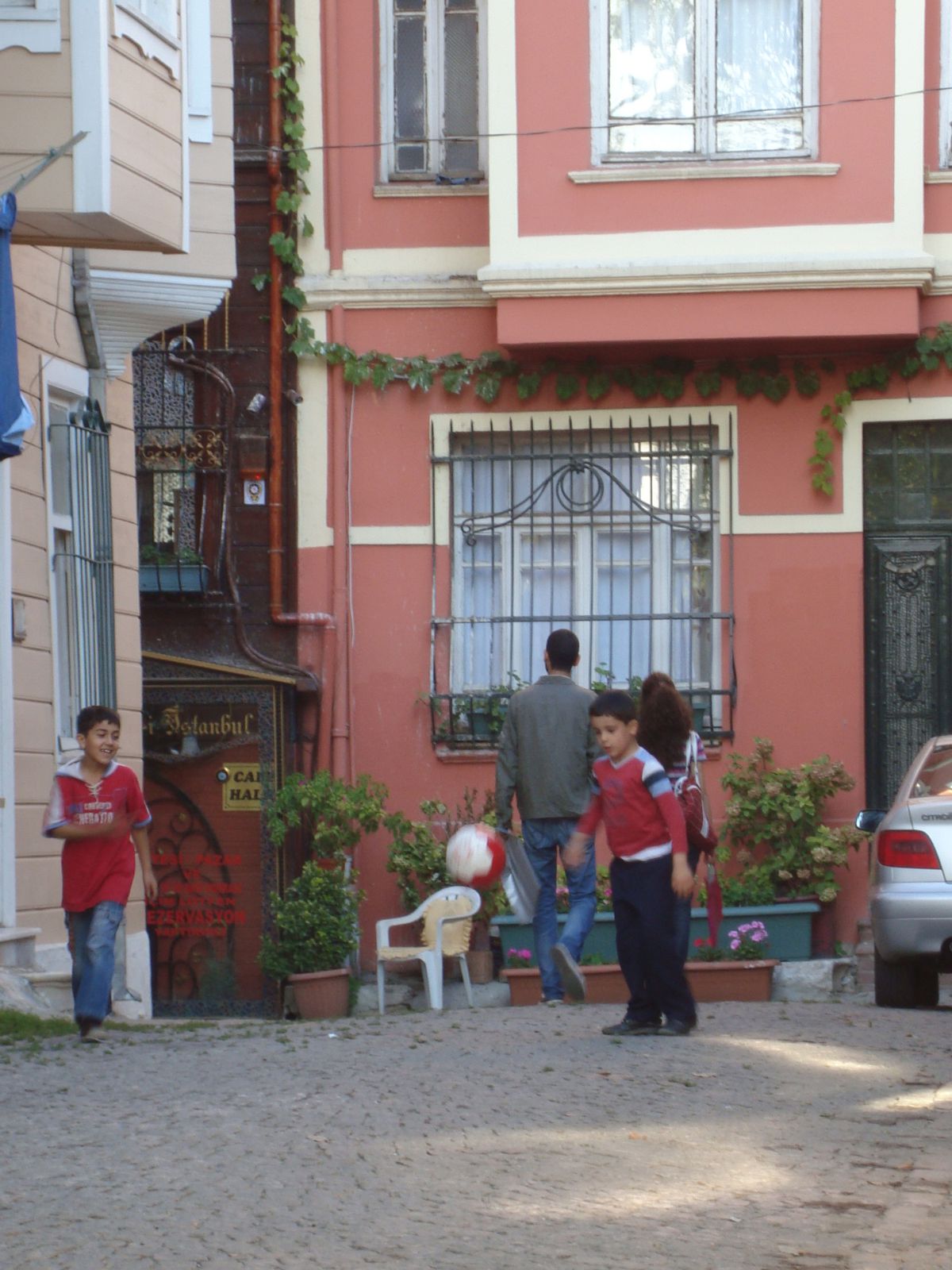 We visited the Suleymaniye Mosque which was huge and impressive. Not all could be visited as they were restoring the building. At the entrance you have to take off your shoes and women need to wear a scarf (that is distributed at the entrance). All mosques are open to visit except when it is praying time, then you have to wait until it is finished.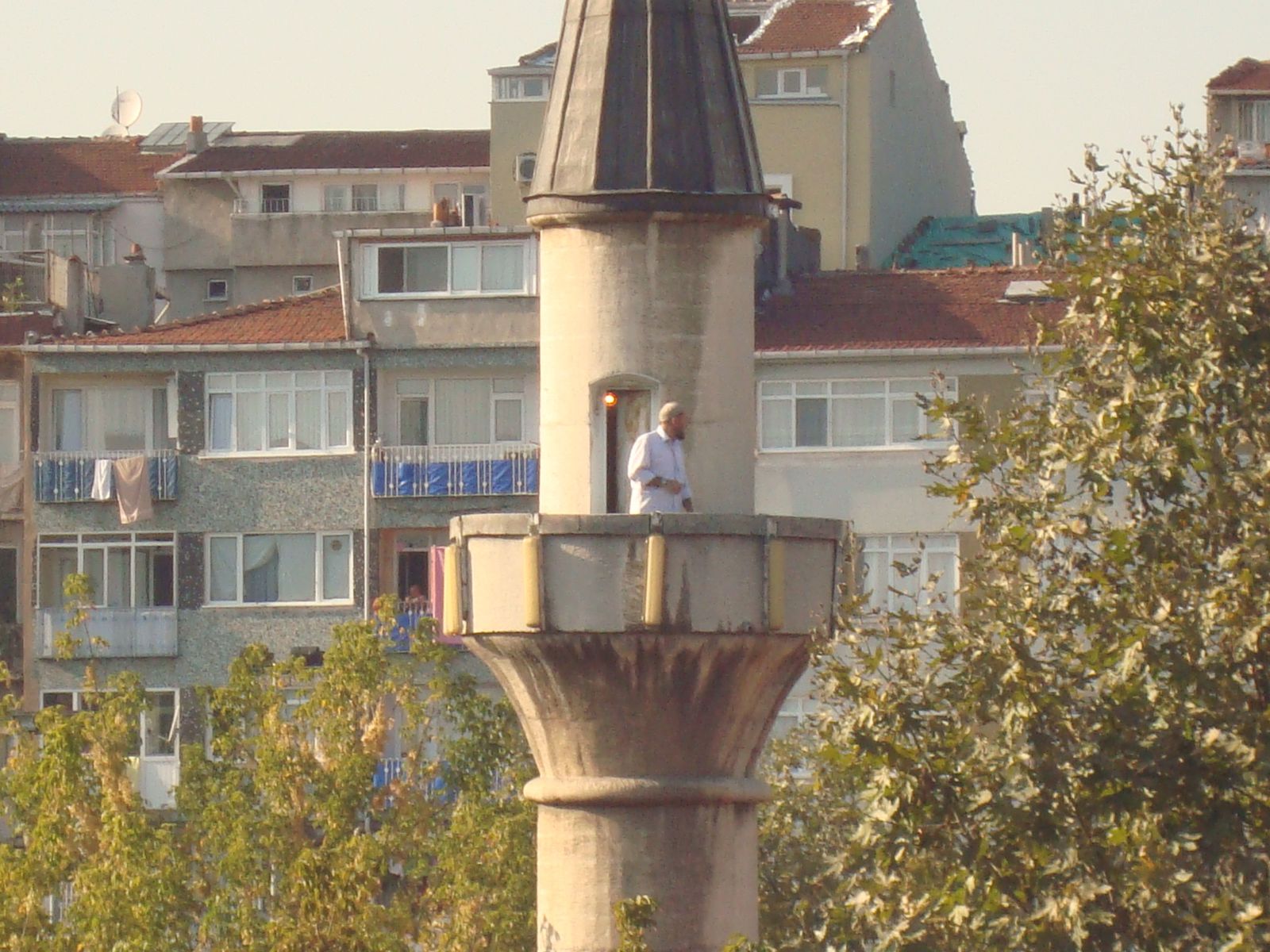 We decided to stay in the Fatih neigbourhood. A turkish gentleman Erhan showed us a cheap hotel (Istanbuglo) where we could stay for a week in await of our van to be finished. We had to pay 10 Turkish Lirasi (equivalent of 5 euros per person/ per night). In that price you didn't have warm water included and you had to cope with the call of the Muezzin at 5 o'clock in the morning (every morning) as the mosque was close to the hotel.


Fatih is named after Sultan Fatih who defended Istanbul against the Greeks and also the Russians. There is a mosque in the neigbourhood named after him. The neigbourhood seemed very traditional. In the tea houses next to the hotel there were only men drinking tea, playing games, talking, reading newspaper. You had the impression that they spent the whole day in the teahouse.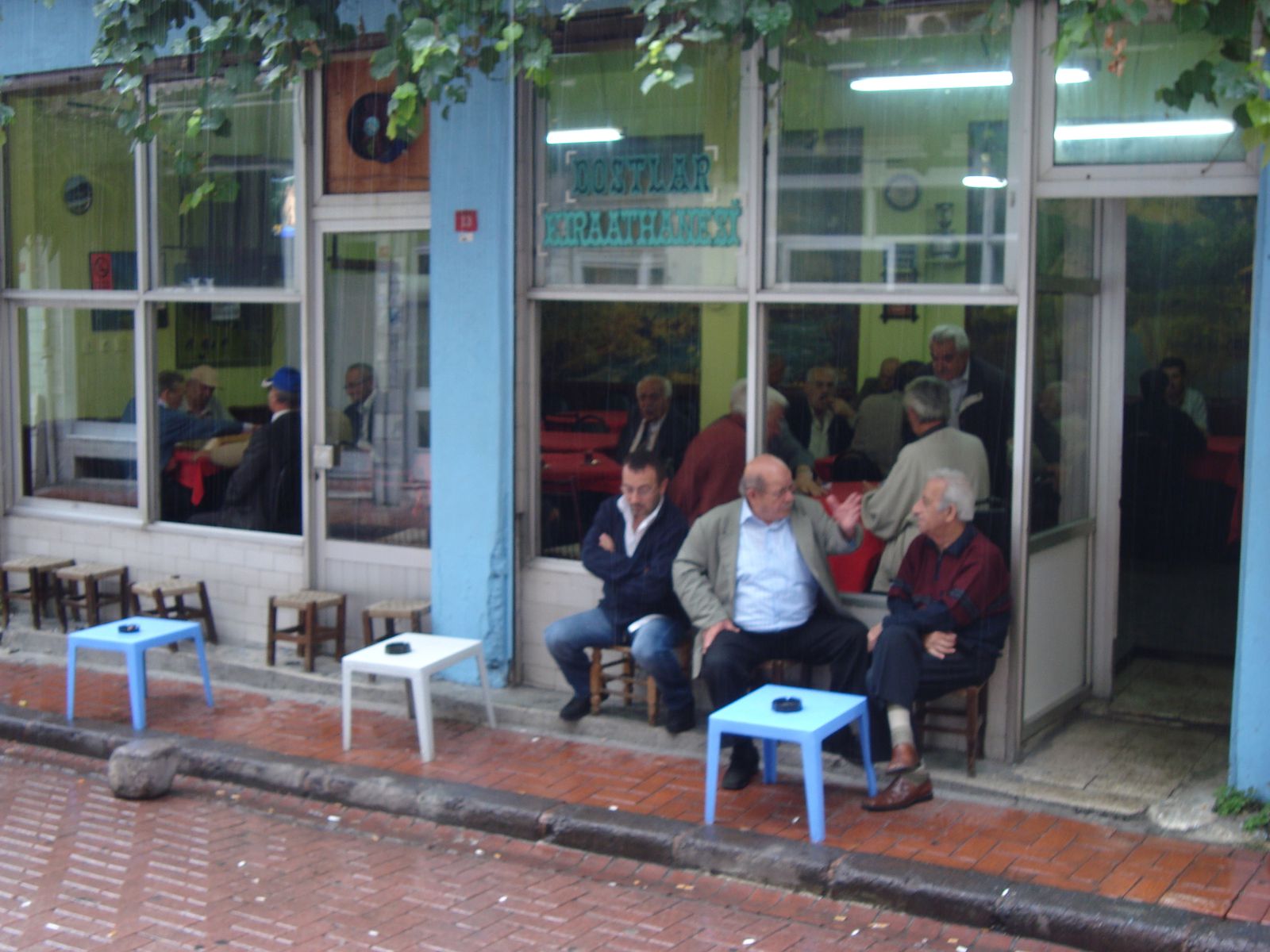 There were a lot of women (young and old) covering their head with a scarve and also quiet a lot dressed fully in black showing just their eyes and nose. People in the area around the hotel where deffinately not used to seeing tourists. They were looking at us as if we were aliens. They really didn't get you off their sight. One day I got out of the hotel before Olivier and I told him that I will be taking a tea waiting for him. When Olivier got out of the hotel, he didn't even had to look around to find me as some men showed him where I was sitting. Another day we came back a little late to the hotel and the streets were empty. We met one guy in the street of our hotel who asked us if we were lost. He explained us that you never see tourists around the area, so when looking at us, he thought we must be lost in Istanbul.......
Istanbul is a city of contrast. The area where the Sultanahmet Camil is situated is ultra touristic. There everybody speaks english, german, spanish (whatever language you want) and they all invite you in to have tea in order to sell you carpets, souvenirs etc. The Sultanahmet Camil also knowns as the Blue Mosque is a marvelous building from the inside and outside. We stayed a little while in the Blue Mosque looking at people coming in and out, taking pictures, praying. We were waiting for the time the Muezzin will make his call, in order to record it. This recording has been posted earlier by Olivier on our blog.

At our third day visiting the city, we encountered in a small parc, three young street musicians. Ten minuted after our arrival they just finished playing. When we talked briefly about us wanting to record them, they continued and played us some marvelous tunes. There were three musicians, each playing a different instrument. There was Yusuf Baki playing the tambourine (called tef in turkish), Soner Ayta playing the darbuka and Mehmet Ayta playing the bendir. Their performances attracted people and soon we had quiet a few people around them listening and dancing to their percussion sound.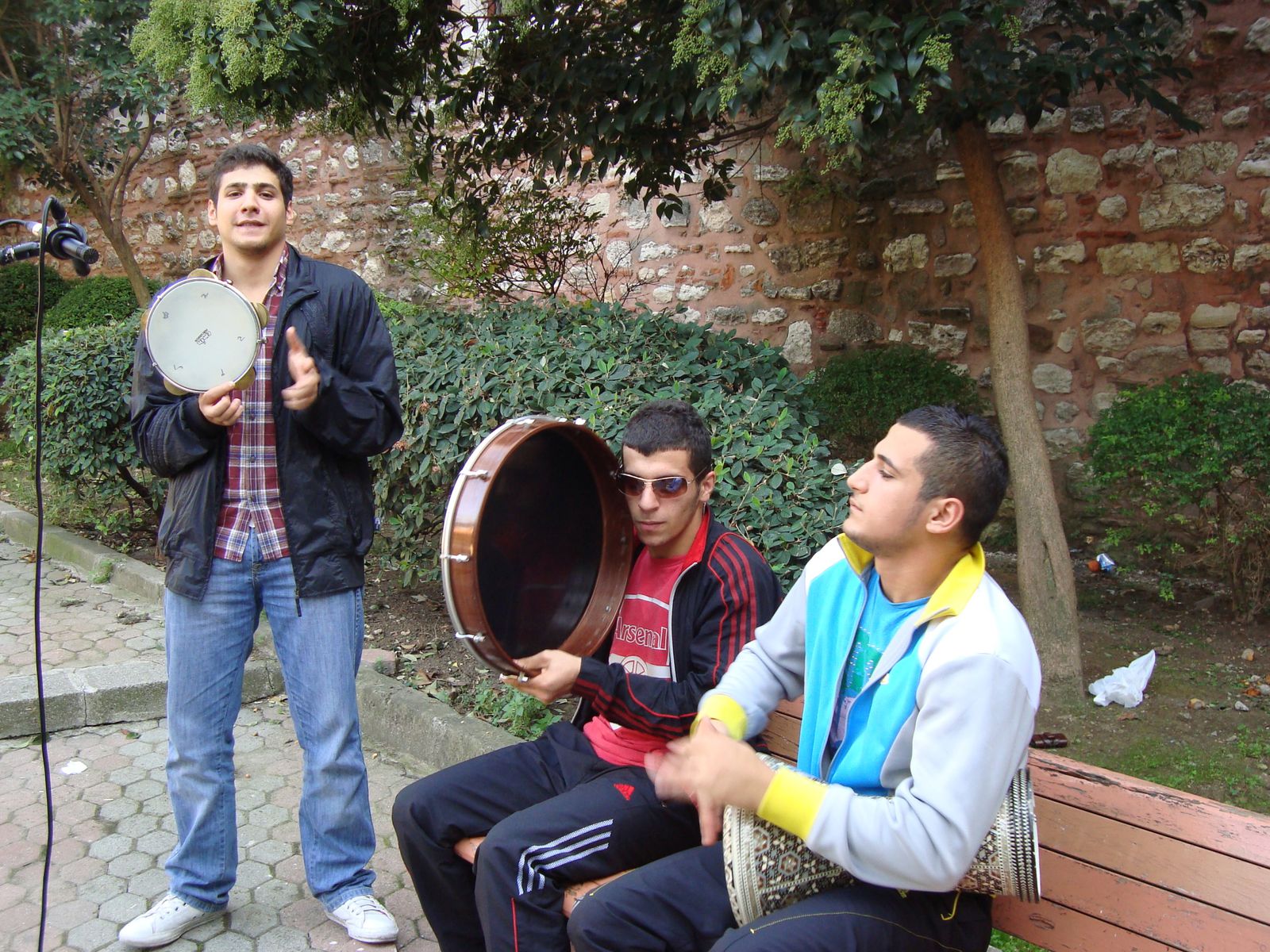 When you cross the Golden Horn you find yourself in totally different asmosphere. The neigbourhood I am talking about calls Taksim. First of all there is Taksim square which is like a little Times Square a la Turkish. Then there is a long street called Tunel where you find all kinds of shops of international brands. You also find small passages or little streets filled with cafes, bars and restaurants. Apparantly the place to go out and shop in Istanbul. The area is touristic but also loved by Turkish people. I think I didn't see 1 lady wearing a scarve in Taksim. We had an appointment with Elif Bleda, a musician our friend Sergio living in Paris talked to us about. She suggested us to come to Babylon Lounge to listen to experimental music and meet her and her friends. Another things about the area of Taksim is that the prices are not the same as in Fatih. In taksim you find more Parisian prices.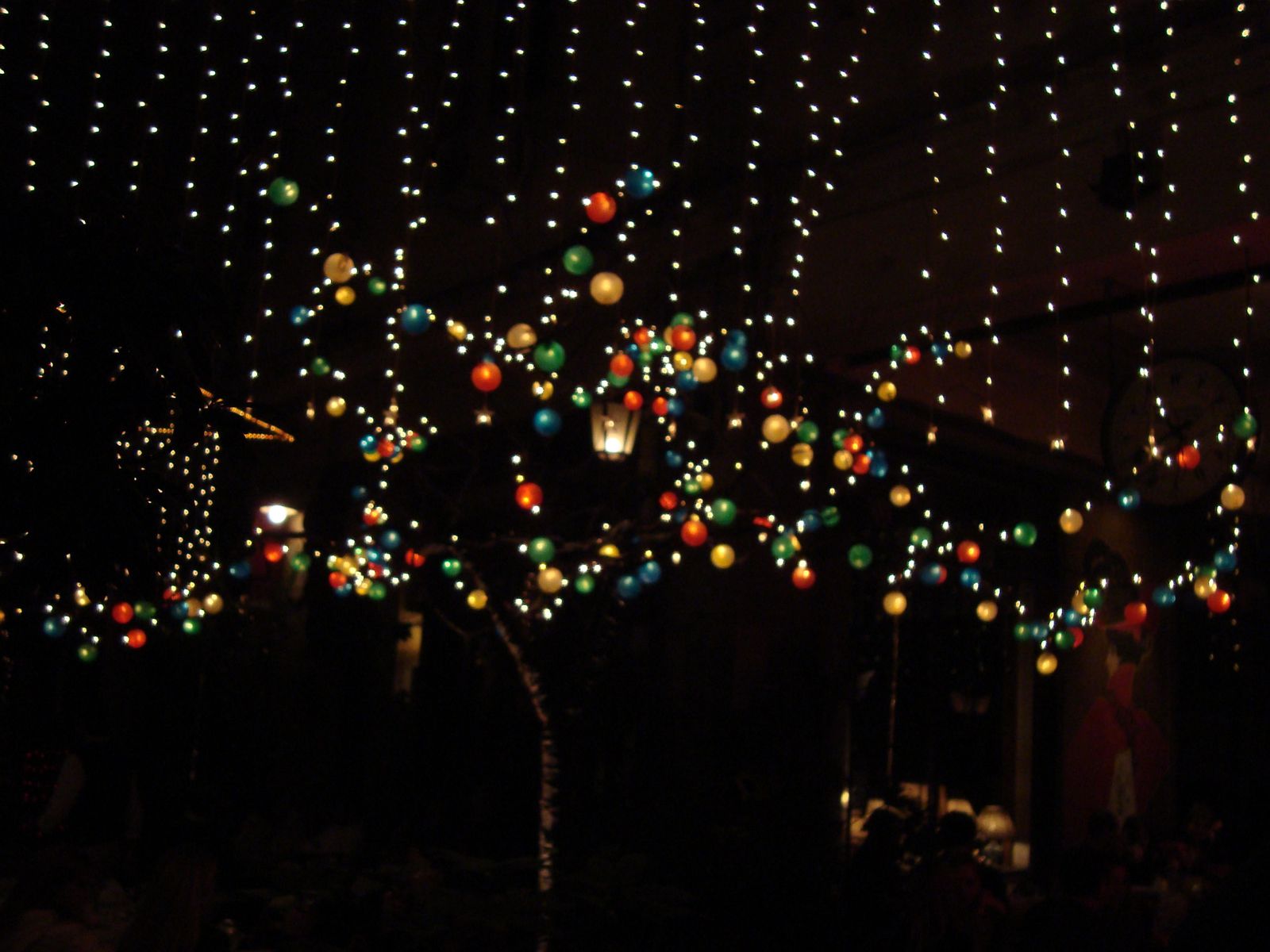 At the concert, I didn't really got into the music, there was a saxophonist playing some tunes and producing sound and images on her computer. The artist didn"t have no interaction with the public. After the concert we met with Elif Bleda and her friends Fulya Ucanok and Senem. They were quiet enthousiastic about our project and they were all into music. Fulya, who is a pianist herself invited us to come to an improvisation class she was attending later in the week.

Later that night we went to have dinner and found ourselves in the middle of an anniversary celebration. There were two musicians (clarinet and accordeon) and the guests where singing and dancing (belly dancing). We recorded with the internal microphones the atmosphere in the restaurant. You are invited to listen to the recording in one of the earlier posted articles.
Another curiosity about the town is that there is the Bosphorus channel that is linking the Marmara Sea in the south and the Black Sea in the north. Another thing that this Bosphorus channel seperates are two continents; Europe and Asia. When you cross the Bosphorus channel, you find yourself in the asian part of Istanbul. As were both a little bit tired, we just had a walk for an hour on that side. There must have been nice places to visit that we didn't really encountered. The area seemed much less touristic then the european side to of the city. On the Bosphorus detroit the boats where sailing on and off. Actually the boats where sailing just as the cars where driving on the streets, there must be a logic but I didn't really catch it.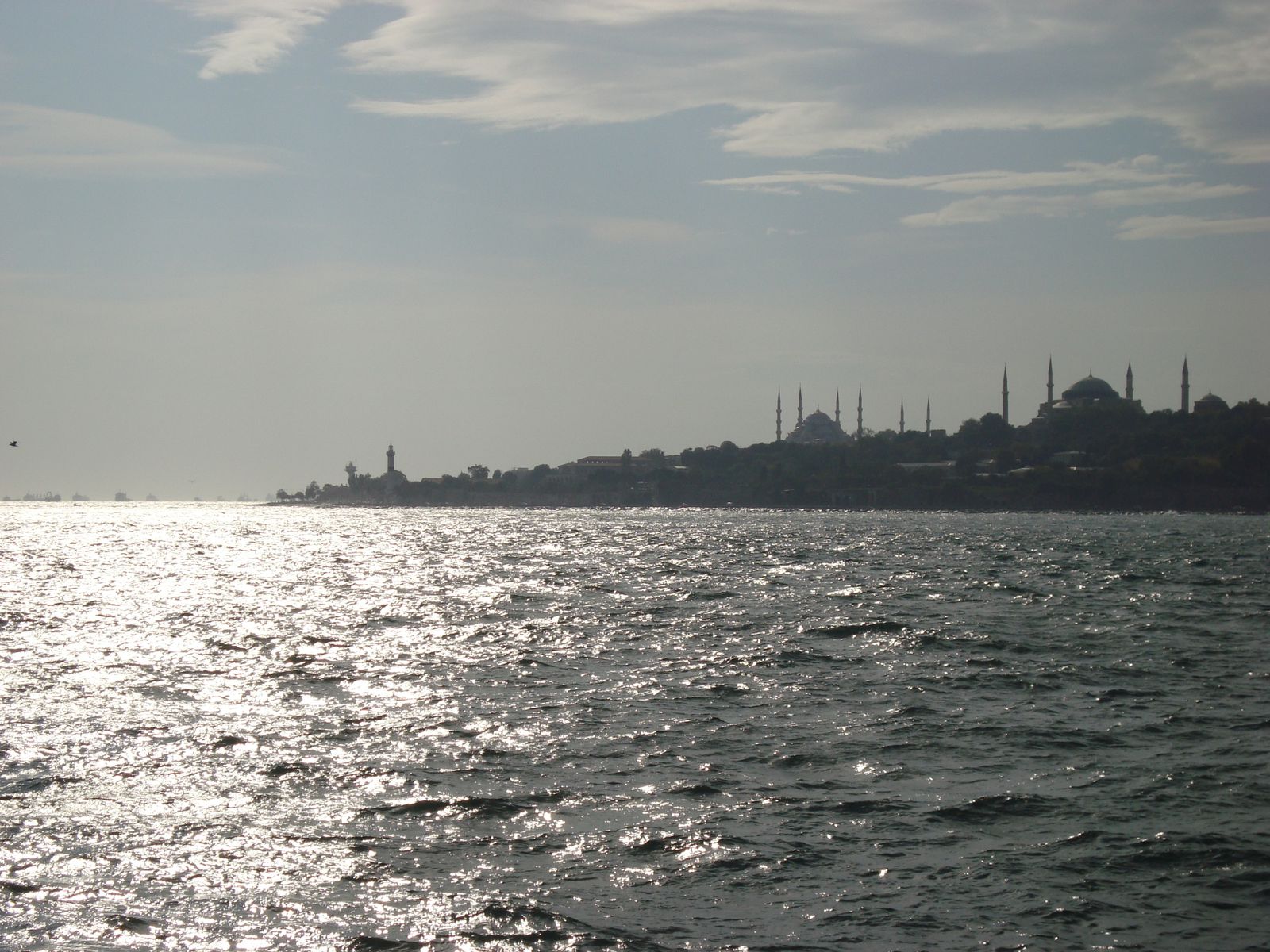 In Istanbul we had our first hammam (Turkish bath). We went in the evening when it is open for foreigners and mixed (for men and women). We had the chance to be the only visitors at that time. The owner explained to us that during the day on certain hours it was open only for men and at other hours only for women. You go into a room that is held warm by steam. In the middle of the room there is a high bed made of stone/marble that is warm. Around the high bed you find robinets and shower were you can pour warm or cold water on your body. You lye on the stone bed to sweat. We didn't get a lot of explanations from the gentleman so we were not sure we were doing it rightly. At the end we did feel relaxed and felt as if our skin was softer.
On the thursday 15th of October we could go to the Istanbul Technical University to attend the improvisation class Fulya Ucanok invited us to. There were nine musicians, all playing different instruments and a teacher who is an etno musicologue himself. Before they started off their class we introduced ourselves and explained the purpose of our visit. The musicians agreed with us recording them. Then the class began.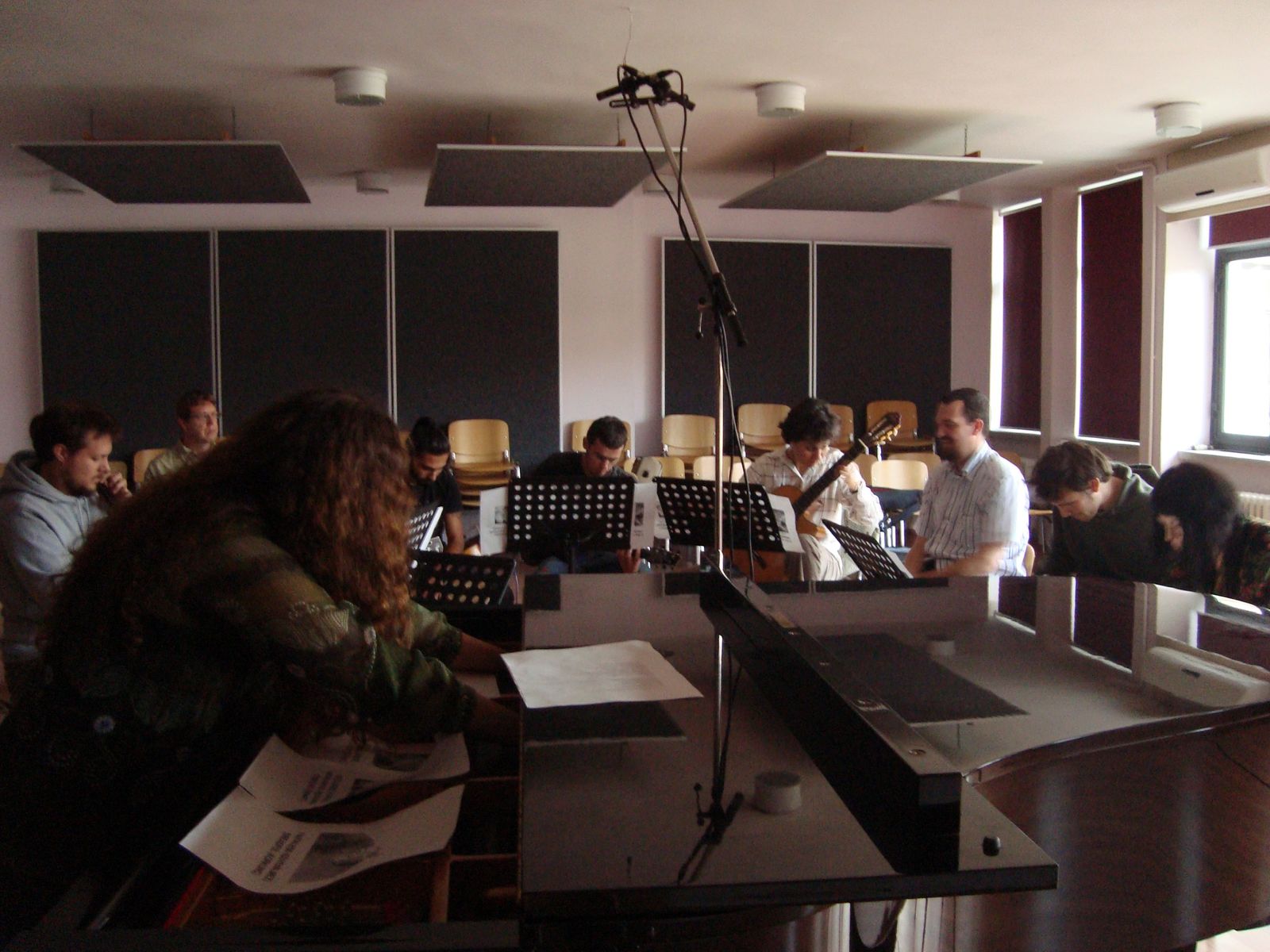 One guitar player had the assignment to provide some hinds. She b
rought a poem "Images from a poem for free improvisation" and four images that she distributed to the group and they discussed about. The idea was to produce a song with four parts, for each part there was the corresponding image and some words related to the image. The four images and the order in which they were played were: 1) scorpion, 2) bird, 3), muscles and 4) volcano. Everybody starting playing their instrument to produce sound as they felt. It seemed as an individual performance because everyone had the images of the poem as an inspiration, but at the same time collectively as they sere listening to eachother. I thought it was very interesting and indeed a moment of experimenting and improvising with sound.
Fulya has her our myspace address where you can listen to her music. Please visit www.myspace.com/puiksjourney.com

On our last night in Istanbul we went to record a group called Alatav that Olivier met a few days earlier in the streets of Istanbul. The guys were so enthousiastic about the idea of being recorded that they proposed to meat with Olivier again on Friday. As it was raining on that Friday the rendez-vous was in an appartment of a friend. When we arrived they started off asking Olivier when he had to leave, later on we understood why that question was asked. The guys do a lot of talking!!!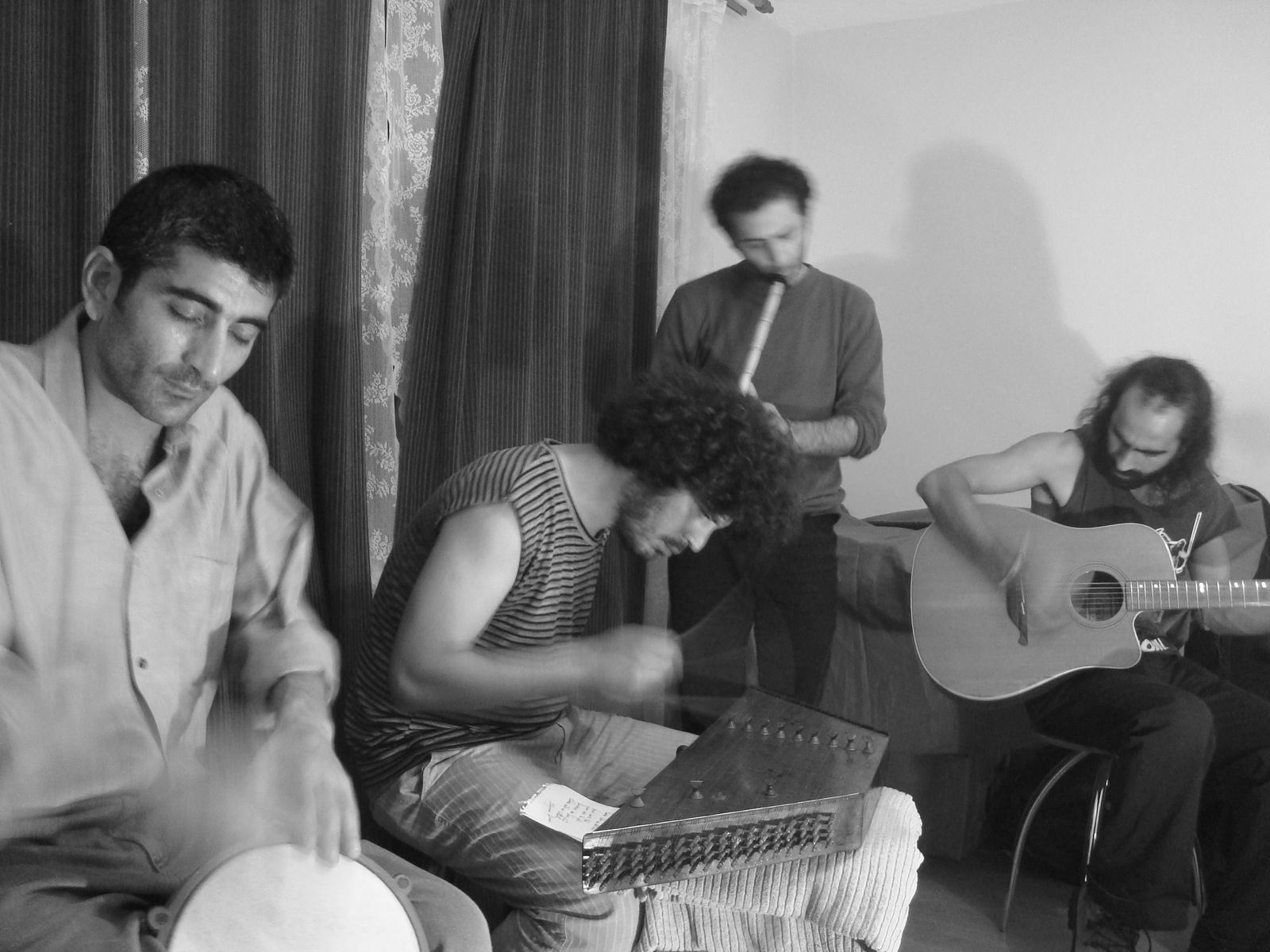 First we had to wait for the group to be complete.
Then they had to find the best place to settle themselves in the room as somebody would film them while playing.
Then there was talk about I don't know what.
Finally they began playing, but in between each and every song there was still talking and talking. There were four musicians playing the guitar, the ney (a turkish flute), the darbuka and the santur.
Their music was worth the wait. It was festive and very nice.

Especially the ney and the santur produce a very special melody to the music. We posted on earlier articles music, a video and also a press report of the group to provide to our readers more information about them and the possibility to listen to their music on www.myspace.com/alatav
After picking our car we went back to take our things at the hotel and leave Istanbul. It was close to a nightmare to leave the city. We started driving around 14:00 hours in order to succeed in getting out of the city only around 18:00 hours. So yes it took us four hours to get out of the city (difficult to beleive).
Olivier had the patience and the ability to drive between the cars taking their priority when they decide. The pedestrians crossing the road where they want, stopping in the middle of the road and walking on the road instead of on the sidewalk.

In any case the avenue we had to go through was endless and our gas was getting less and less, so you all can imagine my stress. Finally when we reached the borders of the city, we stopped at the first quiet place we found, called Herece along the Marmara Sea.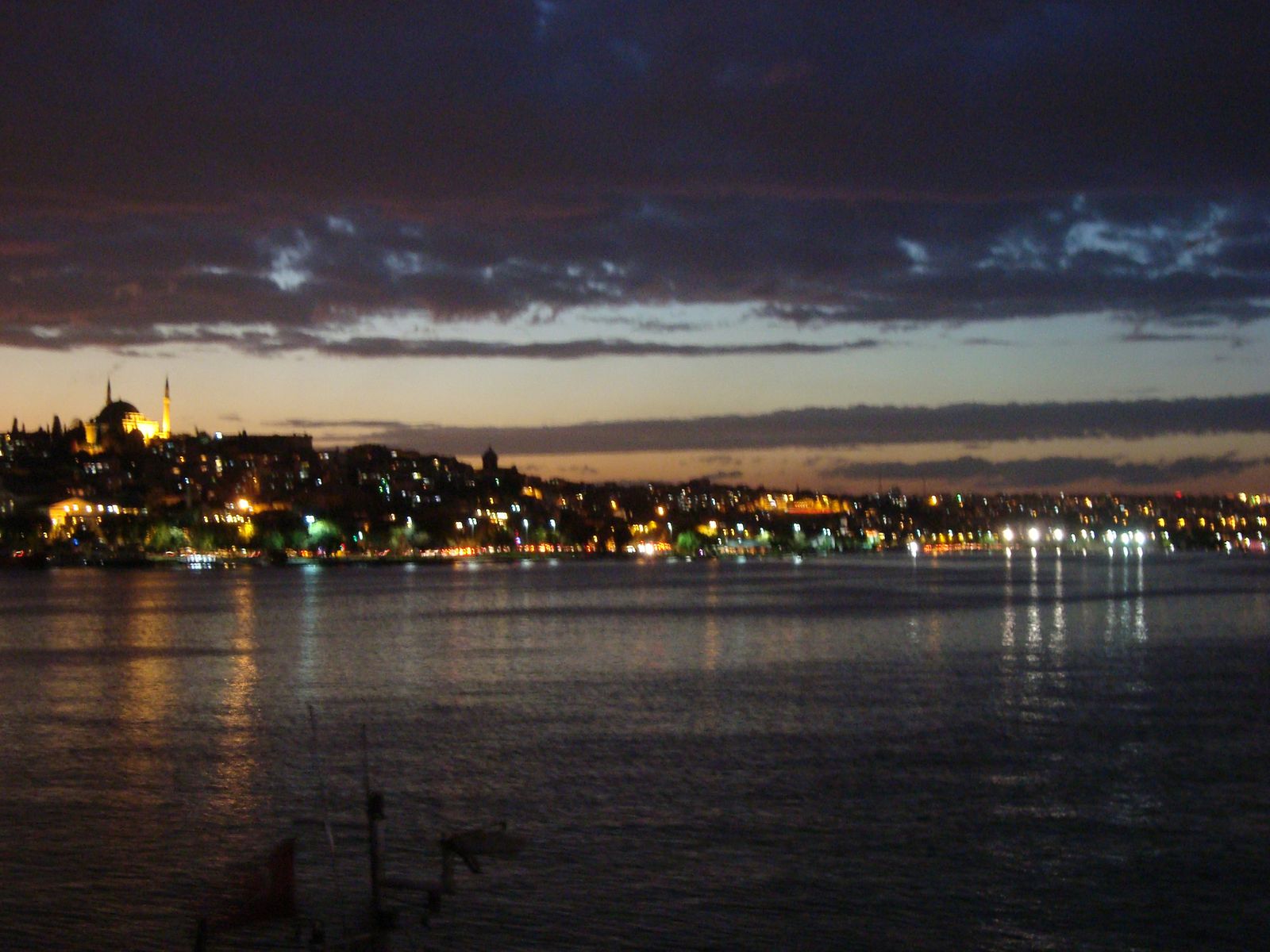 Still this city is beautiful, but you would need a life time to discover all its secrets.